Communication the key to dealing with channel partners during floods, says WD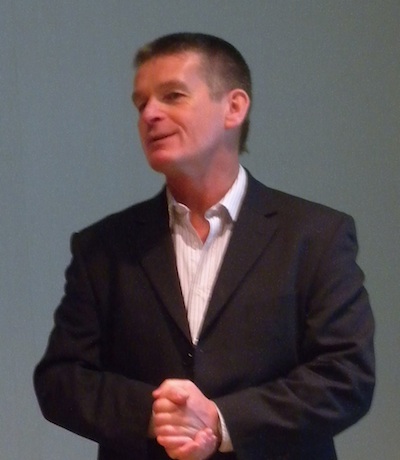 The worst of the effects of the Thai flooding of late last year may have passed, but the disruption that quickly reverberated down the supply chain is still being felt in channel even after the floods have receded. A return to full hard drive production is still awaited and prices remain inflated following the catastrophic
The worst of the effects of the Thai flooding of late last year may have passed, but the disruption that quickly reverberated down the supply chain is still being felt in channel even after the floods have receded.
A return to full hard drive production is still awaited and prices remain inflated following the catastrophic floods, with the allocation of supply still a case of prioritising.
With the floods creating havoc throughout the supply chain, one of the firms most seriously affected by the disaster was Western Digital, both in terms of the suspension of its own waterlogged manufacturing, as well as that of its component suppliers. Even further down the channel the effects were felt with set top box maker Pace taking a hit, as well as distributors quickly noting price increases, and cost increases being passed on to the customer.
ChannelBiz spoke to WD's Senior Sales Director Ian Keene about how it managed its relationship with its supply chain partners to mitigate the effects of the disaster.
According to Keene, a strategy was put in place to ensure that it could reduce the impact on its distributors, and throughout the supply chain.   This took two forms; communication with its customers and reseller base, and deciding upon allocation of supply.
"In terms of communication I think we were pretty quick out of the trap to firstly understand the serious of the situation in Thailand and also to share that with our customer base," Keene says.
"Not just us but our suppliers were seriously impacted, and under a metre of water,"  Keene says, highlighting the need to keep resellers and distributors constantly updated.
"We went out quite early in terms of communication," he says.  "At the same time some of our competitors were saying that they were not impacted and that it was business as normal."
"Actually that probably was not true, so I think we gained some credence in our communication and our ability to actually portray what was going on."
Through good communication Keene says it was possible to quickly establish with customers the severity of the issue of the impact on the supply chain.
This involved informing customers that supply would be constrained for a "period of five or six months".   Keene says this constrain of supply is a situation  "which is still continuing" at the moment.
He believes that by establishing vital lines of communication during a time of national emergency in its main manufacturing base, this allowed the firm to ensure that its channel partners could still function wherever possible.
"That communication enabled our customers and us to prioritise where the most urgent need was to ship product," Keene said, with the aim of allowing the firm to continue to pull in revenue wherever possible.
"We worked very close with our distributors to decide who had stock and who didn't." "Guys who had stock we stopped shipping with them, and we focused on people without stock."
"Also further down the channel the sales team spent a lot of time out with customers to understand what stock we had on hand, what products they needed to fulfil to their manufacturing schedule and therefore to enable them ship to those in most urgent need."
"Those two things gained us a lot kudos in the channel."
According to Keene not all firms affected were as quick to face up to the magnitude of the problems faced.
"Some hid in cupboards and didn't have product to ship .We were out there trying to inform the channel, we were very transparent about the situation and that gained us a lot of credit in the channel."
"From the top down, from the CEO and our president, we were very transparent about the severity of the situation and the impact it would have on our customer base."
"We told some of our customers to go and source from our competitors if you need to ship systems, when we couldn't supply them.  We were very open with that."
According to Keene WD's own actions in the channel to mitigate the problems faced has resulted in the forging of stronger ties throughout the supply chain.
"I hope it has made relationships stronger, we probably need to survey the customer base.  We believe in transparency in the situation. Not all companies are transparent like that."
For WD it is still important that such strategies are in place as the industry is still feeling the after effects of the disruption to supply.
"We are still are some way off being back to our full capacity.  There are some pretty severe shortages in the industry.  So we have continued in the same vein and are trying to meet those most critical need on a weekly basis."
In the future the firm is eager to look at ways of hanging the ways in which it operates in the channel to ensure that if another series of tragic events do unfold it can be more prepared.
This for example has involved moving some manufacturing to Malaysia.
"As a company we have made some changes to our supply channel, to mitigate our supply base's exposure to the flooding," Keene says.
"The flooding was the worst in fifty years, it may never happen again.  But we do have to take away some of the manufacturing in one area."
"The reason it has been there is that it is a good source of skilled labour, and our supply is there so it makes it very competitive, unless you are hit by a tsunami or an earthquake – these things do happen."
Of course Keene is wary of the effects of too much shifting of production and the effect it could have on the channel.
"On one side of supply chain management, we have worked for years and years to reduce cost and be cost efficient in Thailand."
"But we have to look at alternative ways to see if we can be as efficient and cost effective by spreading the manufacturing, we don't want to be moving bits and pieces around the world – its not going to be good for our carbon footprint or our general costs."
This appears to be the balancing act that WD, like other firms continuing to be affected by the floods, are forced to deal with.
"People still want very low cost disk drive, no one is expecting to pay high price forever on high disk prices," Keene says.
He says that by moving manufacturing there is inevitably cost, "say moving from Japan to Thailand or Malaysia to Thailand", and unfortunately despite WD's own investment in returning the channel to full productivity this has to be seen in costing.
"There will be cost involved in the supply chain which will be passed on."
Read also :