UK disties halt launch of RaspberryPi over product testing row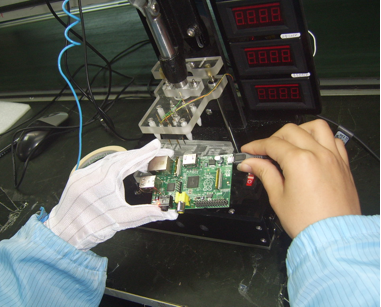 USB computer will remain in warehouses until CE mark awarded
Distributors are "not willing" to allow the highly anticipated RaspberryPi mini-computer to leave their warehouses in a row over testing.
RS Components and element14 have told the makers of the USB computer that the devices will stay put on their shelves until CE marks are received.
Further problems with the RaspberryPi USB computer have meant that the devices are stuck on the shelves of the UK disties unwilling to let onto the market.   The launch has already been delayed due to manufacturing difficulties.
In a blog post it has been announced that 2,000 of the devices have now arrived on these shores, and RasperryPi makers are working to get the CE mark "as soon as is humanly possible".   A further batch of products are also on their way to the country having been manufactured abroad.
The problem surrounds the emissions from the uncased products, with a possible requirement for metallic casing to meet some guidelines.
While RaspberryPi said that it respects the right to stop the distribution of the device until the CE mark is given, there appears to be a disagreement over whether the device constitutes a finished product.
It had been hoped that the bare-bones RaspberryPi would fall under the same category as non-CE marked platforms such as the Beagleboard.
The firm is in talks with the Department for Business Innovation and Skills to see what can be done about accreditation in the future, and an update on the situation should be on its way soon.
The RaspberryPi is symbolic of the move by the government to increase computer science skills in classrooms.  However demand is thought to be high by others wanting to get the devices, with early release models already fetching thousands of pounds through online retailer Ebay.
Read also :