Microsoft and DropBox announce new features as cloud storage battle heats up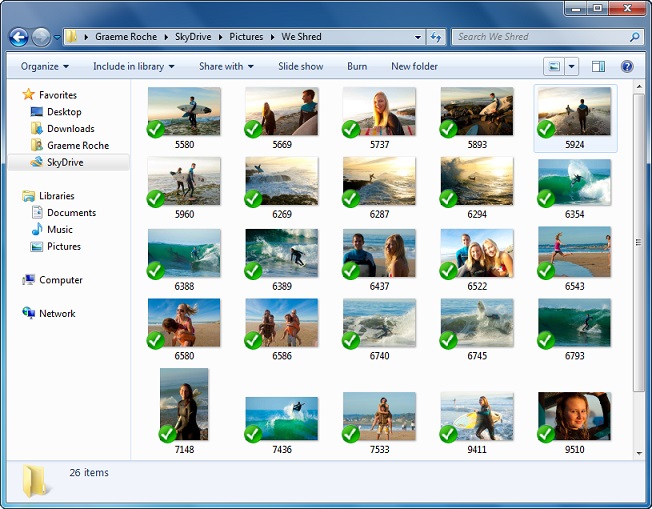 Google Drive has competition worried
Microsoft has beefed up its Sky Drive cloud storage offering, as Google readies itself to capitalise on the growth in cloud storage.
As well as DropBox announcing new features of its popular service, Microsoft has upped its push for more users with cloud storage becoming increasingly accepted in the mainstream.
The bad news is that for those who are new to signing up for the improved Sky Drive services from MS will receive less storage than new user, with 7GB of storage for free. Those who have already signed up to the service will receive the full whack of 25GB, providing they have uploaded previously.
The reasoning behind the 7GB limit is that 99.4 percent of users apparently need than that amount.  We can imagine that a user start to rely on it more, this figure could increase however.  For those requiring further storage, more can be purchased at $10 a year for 20GB, $25 for 50 GB or $50 for 100GB.
New features of the service now mean that files can be synced onto a Windows desktop, and  dragged and dropped when necessary.
The SkyDrive has been available on certain services such as featuring on Hotmail already, but the Microsoft is attempting to make the service more prominent.  For example ChannelBiz has been testing out the Windows 8 preview and the Sky Drive cloud service is set to feature more centrally on the Metro interface as Microsoft seeks to target mobile computing.
Apps for the service are available for download for Windows 7, 8 as well as Vista, and will also be available for Windows Phone devices.   A version has been developed for iOS, but Android users won't receive the service yet at least.
As well as Microsoft's unveiling of its new SkyDrive, DropBox has also announced new additions to its own service, and it is clear that the shadow on the horizon for mass-appeal cloud storage services is the imminent release of Google Drive.
DropBox yesterday announced that it would make file sharing easier, allowing for non-users to access stored content via access through a web link.
At the same time, rumours have been circulating of an imminent release from Google, with an expectation of 5GB of storage to be available for free.
Google maybe be somewhat late to the market, though it has already had success with its Google Docs file-sharing service.    A new Google Drive service would allow improvements on the current 1GB storage limit, and target more than just work use.
Google certainly has the clout to create a service that could have companies which are already established a tad worried.
Considering the rush to release new services Google's competitors are clearly concerned that as cloud storage attracts new users to the market, losing out at this stage could be costly.
Read also :