Agility, flexibility fuelling cloud migration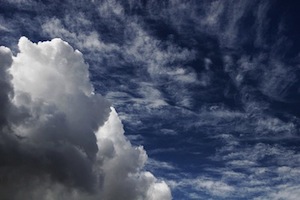 Cloud evangelists vindicated, according to Phoenix
Britain's businesses have flexible and agile IT infrastrucutre on their collective mind, and this is spurring them into hopping over to the cloud.
Longer term thinking in the enterprise is mostly about cost cutting, which cloud advocates will boast it can deliver. Flexibility and infrastructure agility are firmly short term goals and an attractive proposition, too, for making the jump.
According to research from cloud provider Phoenix, the research said that flexibility is far ahead of the pack in terms of reasons companies would like to make the switch, with 71 percent marking it as their top business driver. That was followed by the speed of development and implemntation, at 42 percent of those surveyed, and business continuity at 33 percent.
38 percent agreed that a successful cloud deployment should and must deliver savings in capital expenditure. Another 19 percent recognised that there is a growing need to save on energy costs, and a further 19 percent said cloud is useful for saving money on real estate rationalisation.
In terms of specific services, the core four at the moment are email, back-up and disaster recovery, storage, and collaboration applications. This, Phoenix says, provides an indication of how end users find the cloud to be most effectively employed.
Hosting and cloud services director at Phoenix, Martin O'Donnell, said that over the last few years, the market has been focusing on cost savings afforded by cloud migration – but despite this, while financial benefits can be achieved, the agility afforded by the cloud is what's really allowing businesses to deliver new services.
"The survey results are further proof that the benefits of cloud so long evangelised by vendors and channel alike," O'Donnell said, "are being realiesd by organisations seeking to expand or change their IT capability to more efficiently and cost-effectively support their business goals".
Read also :