ARM takes aim at server market, intros ODM Mitac box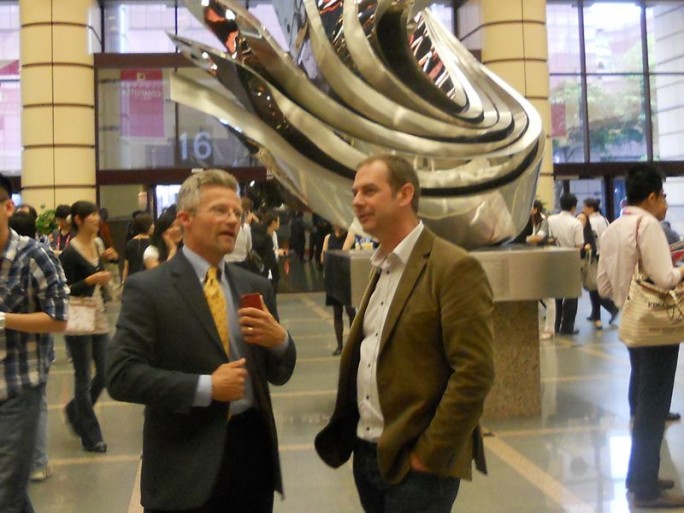 Ian Ferguson, director of server systems at ARM, has his gimlet eyes firmly on the server market. Just last week we learned that Dell, as well as HP, is experimenting using ARM based chips for some of its servers.
Speaking at a Computex industry forum about cloud computing, Ferguson (pictured, left) said he started the server thrust four and a half years ago. ARM, he said, wanted to broaden its message.
He said that Taiwan has a massive opportunity to make profits from the cloud.
Cloud, he said, is where information technology is the business. A server generates profit and people will move platforms if it offers benefits. Enterprises will be willing to migrate if they see something that helps them.
ARM believes there will be range of SoC chips particularly optimized for server operations. It's been in energy constrained systems for over 20 years. Energy constraints force people to think differently. There will be a mix of heterogeneous environments. In the enterprise they own their own software. Facebook will choose servers from AMD, ARM, Intel or anyone.
There is profit down the non X86 path – enterprises will buy from you. Oracle will introduce Server C2 JIT on ARM and will release two new processor designs later this year. Software building blocks will take some time for ARM. There's a performed optmised Java for ARM.
Software will need to be optimized but some of the server building blocks are already there. Ubuntu has announced its Linux distribution with ARM as a first tier server archecture – it incorporates OpenStack cloud management infrastructure.
64 bit technology is not mandatory for cloud computing, the Canonical CEO, Mark Shuttleworth said, after Ferguson pulled him on stage, complete with a big red flower. Windows Server is important even though it's not on an ARM platform, yet. Windows is only a small element for public cloud. Most servers are based on Linux. Most public clouds depend very heavily on virtualisation, but can use mini servers. While virtualisation is important it's not a blocker to adoption, experimentation and workload optimization. You can create very high density racks of microservers.
The cloud today is built on heavily virtualized infrastructure but Big Data is optimised by parallelisation.
Ferguson said ARM will be suitable for web applications, middle tier applications, offline analytics and storage and file serving. Shuttleworth said Ubuntu is highly portable across all platforms. Micro servers have a horizontal scale, are good for Hadoop, AWS and OpenStack are relevant to ARM microservers which will give efficiencies at high density, low space requirements.
Canonical has worked with ARM for some time and supports both HP and Dell. Ferguson showed off a thid global OEM ARM based server, designed and built in Taipei – a Mitac box.
The box is a 4U 16 inch system using 64 1.6GHz cores. There will be 32-bit RM servers shifting this year, and in 2013 there will be Cortex-A15 processors, and the first 644 bit ARM platforms from Applied Micro. In 2014 there will be ARM v8 platforms based on Atlas and Apollo platforms. They will support 64 bit and 32 bit processing.
Read also :