RBS and Natwest business customers carry burden of "technical issues"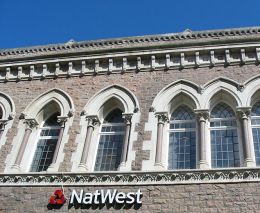 Staff double paid and distributors left without payments
Businesses across the UK have been affected by the RBS Group computer hitch.
Some have been unable to pay in daily and weekly takings, while companies have faced disgruntled staff who have not seen their wages go into their accounts.
The RBS Group's problems hit customers late last week after "computer glitches" and "technical issues" meant customers couldn't access their accounts or see up to date balances. Wages weren't processed and money for direct debits went unpaid.
RBS's latest statement issued yesterday told customers that the bank was "making progress to clear the backlog of payments."
However, it warned that the backlog would mean there would be "bumps in the road."
The latest updates have, however, done nothing to appease businesses who bank with Natwest, who have experienced the fallout from the failure.
One company operating in a North London highstreet told ChannelBiz UK it had to use takings to repay staff on Friday night after weekly wage payments had failed to hit employee accounts.
"Our staff knew it wasn't our fault, but that didn't stop us from taking the bulk of the complaints," the manager of the retail store told ChannelBiz UK.
"We had many claiming they couldn't afford the bus fare into work for the weekend shift, meaning we had to take action quickly to prevent staff shortages at our most busy days of the week.
"Although payments had already been automatically processed from our Natwest business accounts into each employees bank, we had to hand out cash wages from our weekly takings to all 10 employees.
"Not only has this left us with a temporary whole in our books, but we also face a massive headache asking members of our staff to replay back the money once it hits their accounts," the source added.
And it looks like the glitch has also had a knock on effect for prospective house buyers, with a solicitor handling accounts unable to transfer money for house exchanges.
One solicitor told ChannelBiz UK: "Our client account is managed by RBS, meaning that many of our client balances were showing up as zero.
"We had six planned house exchanges for Friday but of those only two went ahead as we were unable to transfer money from our account to the banks.
"Today we're still facing the same problem, as well a backlash from those who were unable to exchange contracts. It's not our fault, the glitch has been well publicised but that doesn't stop us from being the fall guys," the solicitor added.
Smaller businesses have also felt the burden with many being forced to take home and store their weekly takings.
"The safety implications for this are enormous," one shop owner told ChannelBiz UK.
"I bank every Friday, but Natwest's glitch meant I couldn't pay in my takings meaning I had to take them home with me and store them there. I was on edge all weekend.
"As well as this I was unable to pay my newspaper distributors as well as many other suppliers who get paid at the end of the week, meaning my accounts are behind."
Susan Allen, Director of Customer services at the RBS Group, said yesterday: "I'm cautiously optimistic that RBS and NatWest customer account balances will be largely back to normal from tomorrow."
She warned that the knock on effects of the technical failure meant there would be "bumps in the road".
"We will do everything we can to minimise further disruption to our customers. And we continue to rely on and appreciate their patience as we work through possible disruptions,"she added.
"I can confirm today that we have started the process of putting things right for our customers.
"We will automatically waive any overdraft fees or charges on current accounts. This will be processed over the next few days.
"We will work directly with credit agencies to ensure no one has their credit score affected.
"For all other issues, customers have our commitment that they will not be out of pocket from this issue. We will publish further details on how we will ensure this later in the week."
Read also :