Canon creates more revenue opportunities for its partners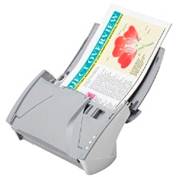 With its new imageFORMULA DR-C130 scanner
Canon is giving its partners a chance to increase their revenues with the launch of a desktop scanner.
The imageFORMULA DR-C130, launched as part of the imageFORMULA desktop scanner range, is said to incorporate a full suite of 'out the box' scanning software and is aimed at corporate and government organisation's HR or sales departments. The company also claims the scanner would benefit a branch office that needs to capture information quickly into central workflow processes to reduce time and save costs.
According to Canon it's also an opportunity for partners to increase  their revenue.
Sean Suematsu, European Document Scanning Solutions Director at Canon Europe, said: "The desktop scanner market offers terrific opportunity for our partners; where growth is forecast to be 11 percent CAGR between 2011 and 20151 as organisations increasingly demand decentralised scanning solutions for the more efficient processing of paper-based information that originates at a branch office or remote location.
"This is particularly apparent in the insurance, banking and logistics sectors where compact, high-speed scanning solutions are being sought after. The imageFORMULA DR-C130 will enable partners to meet this demand and increase the document processing efficiency of their customers."
He added that the new scanner would also support the new environmental compliance ErP lot 6 which comes into effect in 2013. This, he said, would enable partners to already strongly compete with the DR-C130 in project tendering processes.
"Partners can also create customised scan applications and solutions that enhance a specific organisation's document processes," he added.
Canon said that enterprises, integrators and software developers were able to develop customised, web-based scanning applications and products, which would better support their customers' workflows.
The company said they also had the option to install DR-C130 driver runtime controls supporting EMC Captiva Cloud2, streamlining the configuration process by providing web-based scanning, and avoiding the need to use ActiveX controls.
A Software Development Kit plugin connector was also said to be available for Independent Software Vendors to create a customised integration between Canon's CaptureOnTouch scan application software and their own software solutions for end-users.
The imageFORMULA DR-C130 will be available through selected distributor partners in the UK from the beginning of July 2012, at a cost of £605.
Read also :