Fujitsu puts the cloud into a box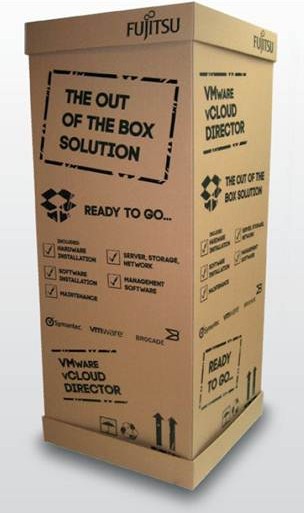 AKA Dynamic Infrastructures for VMware vCloud
Fujitsu has launched what it describes as a private cloud "in a box".
The company's Dynamic Infrastructures for VMware vCloud, is said to combine Fujitsu servers and storage, Brocade networking and VMware virtualisation and cloud management technology into a single pre-configured stack.
Fujitsu claims that this package will help companies in the EMEA region to meet the demand for new levels of agility, efficiency and quality of service while minimising implementation risk.
The converged infrastructure offering serves the enterprise's changing IT requirements by delivering a range of changeable computing resources, managed via VMware vCloud Director, said Fujitsu.
The company claims that operational efficiency is also improved through integrated cloud service management, lowering Opex and offering Capex savings due to a reduction in resource requirements through better utilisation of shared infrastructure environments.
Glenn Fitzgerald, chief technology officer at Fujitsu UK & Ireland's Technology Product Group, said: "With IDC predicting that the Private Cloud sector will grow at an annual growth rate of 23.3 percent and be worth $7.9bn by 2016, Fujitsu is reshaping how organisations deploy their IT infrastructures.
"Dynamic Infrastructures for VMware vCloud delivers a truly out-of-box, pre-configured data centre solution that can be installed and deployed within hours, enabling companies to react faster to new business demands by rapidly adapting IT resources."
Gary Green, vice-president, Global Strategic Alliances, VMware, said: "The Fujitsu Dynamic Infrastructures for VMware vCloud solution represents an innovative, comprehensive approach for customers to rapidly set up a private cloud.
"The offering, featuring VMware Cloud Infrastructure and Management, is another example of the outstanding partnership between Fujitsu and VMware."
VMware vCloud Director offers self-service provisioning, managed through a single portal, that lets users deploy pre-configured infrastructure and application services from central catalogues.
This is claimed to help IT to standardise offerings and simplify change management. There is also support and maintenance included across the complete stack, which the company says reduces maintenance efforts, while Fujitsu's Life Cycle Management provides automatic configuration and management of hardware and software, including any firmware and software updates or patches.
Fujitsu Dynamic Infrastructures for VMware vCloud is highly scalable, Fujitsu claimed, with products ranging from 4 to 18 blades, up to 144 terabyte storage and between 100 to 450 Virtual Machines.