Amazon announces UK launch for Kindle Fire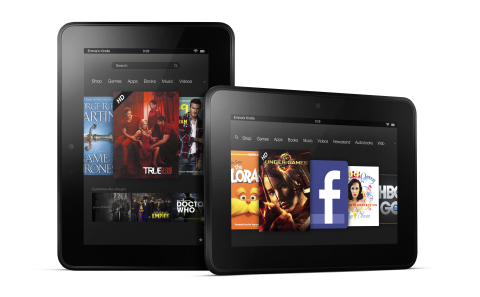 Kindle Fire and Kindle Fire HD to hit arrive October 25th
Amazon has finally given a launch date for the Kindle Fire tablet in the UK, alongside the new Kindle Fire HD.
The Kindle Fire has proven to be hugely popular in the US, managing to divert attention away from the all conquering iPad.
Now the tablet, the best selling product on Amazon.com, will be available in Blighty, with a 25th October release date.
The original seven inch Kindle Fire tablet will be available for £129, with a faster processor, more memory and longer battery life than the version on sale in the US. The Kindle Fire HD will be sold for £159, with 11 hours battery life and 16GB of storage.
Both devices will sell for significantly less than an iPad, with Apple believed to be reacting to the range of smaller, cheaper tablets on the market such as the Galaxy Nexus 7 by releasing its own scaled down device in the coming months.
A larger, 8.9 inch tablet is also to be released in the US by Amazon, further moving into Apple's territory, though no UK release date has been given.
Amazon also announced today that it would be expanding its distribution presence in the UK, creating an extra 2,000 jobs.
Read also :