Nvidia releases VGX K2 for virtualised GPU-class workstations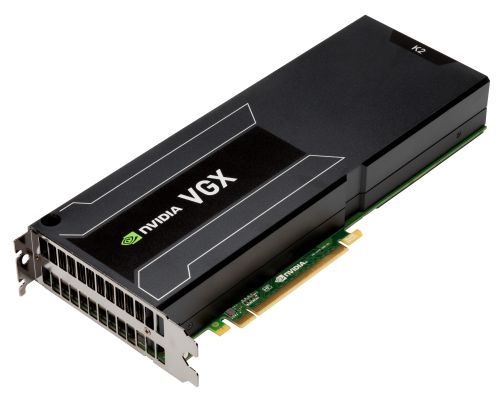 VGPU, totally virtualised GPU, should head to private beta later this year
Nvidia has announced the VGX 2 board which it claims will empower organisations and employers to access virtualised GPU workstation capabilities through the cloud. Nvidia's director of marketing, Justin Boitano, told ChannelBiz UK at Citrix Synergy 2012 that it is totally ahead of the pack in the field.
VGX K2 is built on Nvidia's Kepler architecture and enables the enterprise to deliver full workstation performance for rich multimedia and in 3D over the cloud to smartphones, tablets, or PCs. The K2 sports two Quadro Kepler class workstation GPUs on a single board, doubling user density. There's also a 4GB frame buffer for each of those.
Enterprises, Nvidia promises, will be able to benefit from the SMX streaming multiprocessor to provide "unsurpassed" performance per watt in data centres. Also included is low-latency remote display, which the company says cuts out much of the lag that can be associated with virtualisation.
Nvidia and Citrix have been working together to ensure VGX is optimised for Citrix's XenDesktop with HDX 3DPro. Together, the companies say, users have full compatibility and performance for their graphics and computing intensive, GPU applications. Citrix Ready partners for HDX 3D will have access to VGX K2.
Krishna Subramanian, VP of marketing and partner engagement at Citrix, said in a statement that the products working together aim to deliver workstation-class performance "to the most demanding users in enterprises, while also increasing user density in their data centres". Desktop virtualisation is becoming increasingly important in a global and mobile economy, Subramanian noted, adding that working with Nvidia, the two are delivering the "most advanced virtualised user experience on the market".
Nvidia's Boitano told us that VGX K2 is designed to address the highest tier in the market, workstation users. "VGX K2 is the first cloud GPU that is truly designed to deliver workstation performance," Boitano said. This is possible thanks to the Kepler architecture, he said, which from the start was designed to be extremely power efficient.
K2, Boitano said, is flexible: "You can deploy it in your data centre, so a workstation user may need a dedicated GPU, but in the future you may want to virtualise that same GPU and share 10 user's desktops on it," he said.
OEMs, for their part, are "really excited" about VGX K2. "Any way they can sell more value in the enterprise," Boitano said, will lead to this product being a "big next step for them delivering a better experience".
Although Nvidia is primarily considered a hardware company, Boitano pointed out that there are thousands of employees working on software to optimise its hardware products. So, according to Boitano, this is one reason why the company has a lead on virtualisation. This K2 architecture is "really the first of its kind to be designed for cloud computing and remote workstation," he said.
Additionally, while the workstation product is available right now, Nvidia is investing heavily in VGPU – totally virtualising the GPU, although it is just in alpha stage at present. There are no specific dates set for VGPU, but the next milestone will be private beta stage with customers, which Boitano expects will happen later this year. This means, Boitano told us, organisations can start with VGX and then virtualise the same GPUs when VGPU becomes available soon in the future.
Read also :