Fujitsu breathes life into enterprise desktops with X Line range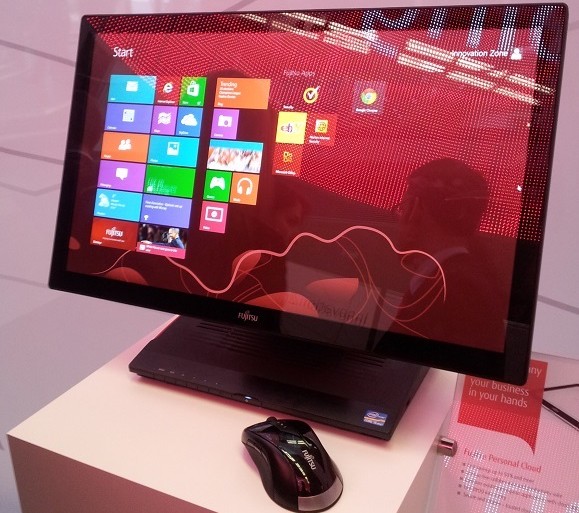 CTO says Windows 8 is not just about tablets
Fujitsu unveiled new X Line desktop, display and thin client products at Fujitsu Forum 2012, Munich, stating that Windows 8 is about more than just selling tablets.
The release of Microsoft's operating system has been met with some interesting approaches in terms of tablet and notebook hybrids, but desktops have failed to grab much attention.
Additionally, there have been some doubts raised over business uptake for the OS – with the Metro interface considered to be more of a consumer play.
However, Fujitsu told ChannelBiz UK that it was committed to developing desktop products in the long term, and the company wants to meet that demand from the enterprise with innovative new form factors.
"The whole industry is excited about tablets," Fujitsu's CTO, Joseph Reger, said, but he claimed corporate customers are also in need of innovative products in desktop environments, running touch enabled operating systems like Windows 8.
"Windows 8 cannot be a tablet proposition only," he continued, "enterprises will need Windows 8, they will transition to that operating system model and they will need new devices to do that."
Fujitsu, focused entirely on B2B sales in the UK, released the X Line devices with a flagship touch enabled Esprimo desktop all in one.
The computing unit is integrated into the stand and the 23 inch screen can be tilted to easily access its touchscreen capabilities, making good use of the operating system's tile interface.  Fujitsu pointed out that this opens up the device for collaborative use, such as sharing a presentation during a meeting.  The HD screen also has facial recognition as an added security measure.
A new display product, the 23 inch Display X, was also revealed at the event.  One of the interesting features is the ability to mirror mobile devices by plugging them into the display via an MHL interface.  After a few seconds a demo version of the display we used at Fujitsu Forum was able to display the screen of our Galaxy S2, which can then be controlled by a mouse on the larger screen, something that may be useful for hot desking employees bringing their own mobile devices into work.
The third product in the range is the Futro X Line thin client.  The device draws its power over a single ethernet cable, and enables touchscreen capabilities through a virtualised environment.
UK pricing is not yet available, but Fujitsu told ChannelBiz UK that it will be decided on a regional basis across Europe. Availability will be announced at a later date.
Read also :