DDN enhances ExaScaler and GridScaler product line up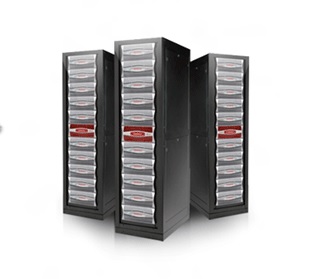 Aimed at supporting big data number-crunching
DataDirect Networks is aiming to accelerate big data and high performance computing workflows with a set of parallel file storage product enhancements.
DDN's GridScaler and ExaScaler scale-out file storage platforms now feature network area storage NAS connectivity, cloud storage tiering, automated flash acceleration, and simple appliance management in enterprise environments.
DDN's new GridScaler and ExaScaler products feature hardware and software enhancements designed to integrate data-intensive applications and data workflows.   The updated systems will optimise storage acquisition and management costs at multiple levels of scale, DDN said.
Enhancements include updates to its Storage Fusion Architecture (SFA) appliances, with ExaScaler and GridScaler systems now able to deployed with DDN's SFA12K platform or the SFA7700 mid-range hybrid Flash storage appliance. Advances have also been made with the company's Storage Fusion Xcelerator (SFX) Hybrid Flash Storage Caching, and Cloud tiering.
Enterprise NAS access is also provided for applications that do not require the highest levels of performance access, with DDN now offering NAS access via NFS or SMB/CIFS for enterprise applications.
DDN says that the changes it is making are ideal for a wide range of organisation sizes, and can support systems operating past the 1 terabyte per second mark.   This will help those looking to support big data workflows, be it in financial modelling, academic research, or manufacturing design.
"The importance of flexible, efficient and simple infrastructure becomes increasingly critical for enterprises as data becomes essential to organizational success," said Jean-Luc Chatelain, Executive VP of Strategy & Technology, DDN.
"With the new enhancements to our GridScaler and ExaScaler family of products, DDN has evolved parallel file storage from being an application point-solution to an enterprise class, easy to manage Big Data appliance for the capture, storage, processing and global distribution of massive data."
DDN recently landed a contract to build an e-infrastructure software development centre using cash from the Department for Innovation and Skills (BIS)
Read also :