Canon unveils ultraportable scanner for mobile workers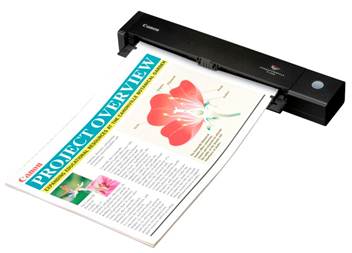 Gives resellers a chance to bundle services, Canon says
Canon has announced new cloud-connected portable scanners to help partners capitalise on mobility trends.
The imageFormula P-208 scanner is a USB powered device aimed at mobile workers and home users, with the double sided scanning device weighing only 600g.   Despite its diminutive size, the P-208 will offer features such as automatic document feeding,  and will easily connect to Mac or Windows based-hardware, without the need for driver installation.
The scanner will also support EMC Captiva Cloud, which Canon said will enable enterprises, software vendors and VARs to develop custom cloud-based scanning applications.  A software development kit will also be made available to partners to integrate the embedded CaptureOnTouch software.
Canon has been expanding its cloud functionality to support the trends in remote working.  Canon said that its partners can help increase profits with its own WU10 wi-fi unit, which enables customers to quickly share scanned documents with smartphones and tablets via a free app.
Sean Suematsu, European Document Scanning Solutions Director at Canon Europe, said that the growing portfolio of cloud-enabled products aimed at use by mobile customers offers its channel partners a way to increase sales.
"Our popular imageFormula P-215 has helped Canon's channel partners establish the market for high-quality, high-performance document capture on the go," Suematsu said.
"With the new imageFormula P-208, partners will be able to strengthen their market proposition and convert the growing demand for ultra-compact and powerful portable scanners into sales."
The imageFormula P-208 will be available in the UK & Ireland through Canon its distribution partners across Europe from January 2013.
Read also :