Microsoft Gears Up To Float Surface On The Channel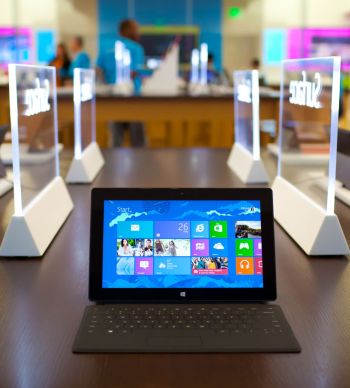 Microsoft is reportedly ramping up production of its Surface tablets for wider distribution to combat less-than-robust online sales
Microsoft's Surface tablet could soon be stocked by large retailers and other resellers, according to various news reports.
Microsoft is said to be mulling a change in the way it sells its Surface tablet, according to the reports. Currently, the only way to buy a new Surface tablet is through the software giant's online store, a few physical Microsoft retail locations and a smattering of pop-up stores.
Channel Expansion
Microsoft's meagre brick-and-mortar footprint prevents many potential buyers from spending some hands-on time with the tablet during the crucial holiday-shopping season.
Analysts have blamed the restrictive distribution strategy, in part, for relatively slow sales of the device, which was developed and manufactured by the software giant as a showcase for its touch-enabled Windows 8 and RT operating systems.
This article appeared on TechWeekEurope. Click here for the full story.
Read also :