RGB Touts Celerity Cable Deal For HDMI Cable Distribution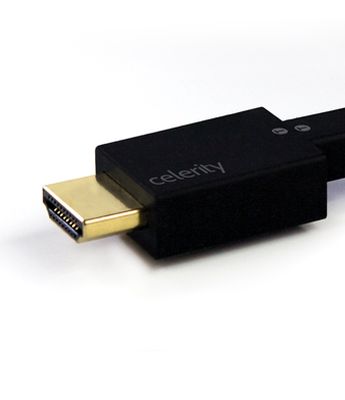 RGB has signed a distribution deal with a US company that will see it offer a specialist fibre optic cable for audio visual systems
Audio visual (AV) distributor RGB Communications has signed an exclusive distribution agreement with an American company for its highly regarded fibre optic HDMI cabling.
RGB is touting the distribution deal for the UK and Ireland with California-based Celerity Technologies, as giving it the capacity to deliver up to 1,000 feet of HDMI signals.
AV Installations
HDMI or High-Definition Multimedia Interface is of course widely used nowadays to deliver both audio and video signals from an HDMI-compliant device to a compatible audio outlet (speakers, surround sound systems) or visual display (video projectors, digital TV, computer monitors) device.
RGB's deal will see it distribute Celerity's pre-terminated, pure fibre optic cable with detachable HDMI connector. The company says the design of the Celerity cable "eliminates the complexities so often associated with deploying fibre optic HDMI solutions over both short and, more importantly, long distances."
Historically, the installation of fibre optic HDMI cables in the office or home has been a complex affair, with the cable itself highly prone to damage during the installation process.
But RGB's says that the Celerity cable is different, because the miniature plug attached to each end of the cable protects the fibre optics and internal electronics during installation, at the same time as providing a perfect connection with the detachable HDMI connector.
And because the plug can be detached, it makes for much easier installation into walls, ceilings, or other tight ducting spaces.
"What is really special about Celerity is that its management and R&D team, who incidentally are ex-Rainbow Fish, have actually listened to market feedback around the challenges deploying fibre optic HDMI in both the commercial and residential sectors," explained Gordon Innocent, RGB's chairman.
"Celerity has worked hard to come to market with a hugely enhanced solution which, as far as RGB is aware, delivers unique features such as the cable's detachable HDMI connector, its delivery of ARC (audio return channel) and its support of Ultra-HD," added Innocent.
Another big bonus with the Celerity cable is that RGB's channel partners are no longer restricted to the typical 15 metres of copper cable for good quality AV. This is because Celerity's solution is able to deliver "exceptional picture and sound quality over cable lengths of up to 1,000ft."
RGB points to Celerity's ARC capability, which provides high quality audio without the need for additional cables or other accessories to bring sound from the TV back to any ARC compatible AV receiver.
No Interference
The Berkshire-based company says that Celerity's fibre optic technology is designed to cope with the ever increasing bandwidth demands of customers for high resolution content in both commercial and residential environments. It supports 1080p, 3D and 4K Ultra-HD.
"As a pure 100 percent fibre optic solution Celerity's cable is completely immune from EMI (electromagnetic interference)," said RGB.
"The Celerity team already had a very successful relationship with RGB and had experienced firsthand its knowledge and expertise across all sectors of the AV marketplace. So we were delighted to strike a new distributorship deal with RGB for Celerity," said Buzz Delano, Celerity's director of business development.
"This is another distribution agreement that helps RGB meet its goal to continually provide our channel partners with market leading, innovative and revenue generating solutions which meet their customers' demands for ever more high quality AV solutions in both the commercial and residential sectors," concluded RGB's Innocent.
Earlier this year RGB announced it was running a range of Audio Essentials training courses in a bid to help partners in the audio installations sector increase their installation revenues and their opportunities.