Tech Trailblazers Awards Honour Start-ups' Achievements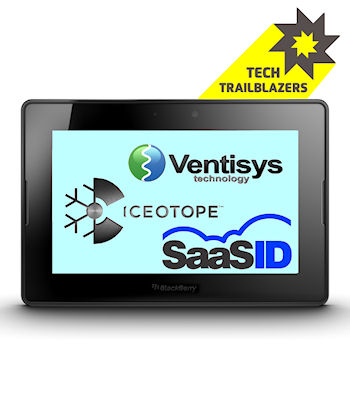 European companies SaaSID, Iceotope and Ventisys Systems scoop awards in worldwide competition for start-ups
The Tech Trailblazers Awards, highlighting IT start-ups, has announced the winners for 2012, the awards inaugural year.
European successes comprised UK companies SaaSID and Iceotope with Ireland's Ventisys Technology. All of the other winners were US companies with the exception of CloudByte from India.
Founder and organiser of the awards Rose Ross said, "Our goal in our first year was to create a truly global award for enterprise tech startups with prizes that would actually help them grow their businesses. The Tech Trailblazers has proved itself as the enterprise tech world's independent award dedicated to discovering the hottest new enterprise tech innovations from around the world."
Local heroes
SaaSID won the Cloud Trailblazer section. The company, based in Basingstoke, tackles the challenges of cloud adoption, specialising in authentication, management and auditing products. Addressing the productivity, security and compliance issues arising from the growing use of web applications and the implementation of bring your own device (BYOD) initiatives, SaaSID aims to allow companies to leverage the full benefits of the cloud.
The Sustainable IT award went to Sheffield's Iceotope for its provision of liquid-cooled servers that offer full time, cheaper cooling for cloud services deployments. The company manufactures its own cooling cabinets which house compute and telecoms components from companies such as AMD, Intel and Supermicro. By using liquid rather than air, Iceotope claims that costs can be cut by reducing the need for massive capital expenditure on air conditioning, chillers, and humidity control systems.
Ventisys Technology walked away with the Security Trailblazers prize. The Irish enterprise is based in Sligo on the northwest coast of the republic. The company's flagship product is Oudles Vault which protects laptop data and documents using 256-bit encryption. Documents can be worked on locally but the encryption keys are stored on a remote server. Automatic backup copies are also stored remotely so that, if the laptop goes missing, the locally stored data can be securely erased without loss of information to the company.
"Exciting new technologies are being developed all over the world by fledgling companies that need only the recognition and resources to succeed. We look forward to watching our winners flourish in 2013 and welcoming even more entrants to the awards next year," said Ross.
Entrance for next year's Awards will be opened on July 4, 2013.
Tech Trailblazers winners this year:
Big Data – Verdigris Technologies, Moffett Field, California, USA
Cloud  – SaaSID, Basingstoke, England, UK
Emerging Markets – CloudByte, Bangalore, India
Mobile – Moasis Global, West Palm Beach, Florida, USA
Networking – Aryaka, Milpitas, California, USA
Security – VentiSys Technology, Sligo, Ireland
Storage – SMART Storage Systems, Newark, California, USA
Sustainable IT – Iceotope, Sheffield, England, UK
Virtualization – GreenBytes Ashaway, Rhode Island, USA
Read also :