Government To Probe Comet Collapse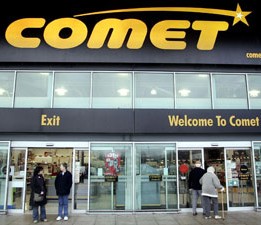 Department of Business to investigate fallen electrical retailer acquisition in 2011
The Department for Business, Innovation and Skills (BIS) is to launch a full investigation into why electrical retailer Comet collapsed into administration.
The firm shut up shop for the last time after 79 years of trading. The remaining 49 of the chain's 236-strong branch network closed their doors last week, announcing around 6,900 job losses.
The collapse of the company meant that taxpayers were left footing a bill for £49.4 million for unpaid tax and redundancy payments to former employees.
The government is said to be focusing on the acquisition of Comet back in 2011 for two pounds. The inquiry was launched under section 447 of the Companies Act.
A spokeswoman for BIS would not make any comment over the investigation. " To do so could prejudice the outcome of the investigation and any future action," she said.
Nothing decided
OpCapita said in a statement to the press: "We will of course assist fully with any inquiry and welcome the opportunity to provide BIS with factual information relating to the circumstances which led to Comet entering administration.
"Once the administration is completed, Deloitte will issue a full report to creditors which will be publicly available, as is the initial report published on Monday. OpCapita has no further comment to make at this stage."
A report from administrators Deloitte showed that a firm set up by OpCapita, called Hailey Acquisitions, received £11.5 million in interest and arrangement payments. Comet went out of business less than a year after being acquired by OpCapita and its backers.
While there is interest for the store's retail locations, no viable offers have yet been made, according to Deloitte. However, unconfirmed talks are thought to be taking place which could see online retailer Appliances Direct taking over the brand name of the store to use online.
Read also :