Canonical Launches Full-Featured Ubuntu For Smartphones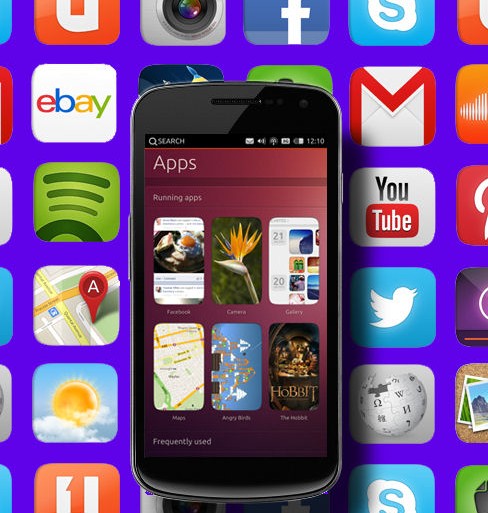 The full version of the popular Linux-based operating system will be coming to a phone near you later this year
On the first working day of 2013, Canonical finally took the wraps off a long-rumoured project, to show Ubuntu running on a phone for the very first time.
The new software is not just any phone OS, but a fully-featured Ubuntu on a smartphone, with an interface designed for touch interaction and small screen size.
The company hails this creation as the "commercially viable open source alternative" to the "duopoly" of iOS and Android.
While it will work well on entry-level phones, the real beauty of the system is in the way it can become a PC. Continuing where the Ubuntu on Android project left off, the phone will work as a regular Linux computer capable of running remote Windows applications, once connected to a monitor and a Bluetooth keyboard.
Not just another phone OS
Founder Mark Shuttleworth was giddy with excitement at the Canonical London offices on Tuesday, completely aware of the wild online rumours surrounding this launch. He briefly talked about convergence, before outlining the vision of Canonical: "one OS to rule them all", across your TV, PC, tablet and phone.
Ubuntu is already the most popular Linux-based OS in the world, he said, adding that it is also the fastest growing open source OS, but the aspirations of the company don't stop there. "One brain, one heart, one platform," poetically expressed his plans Shuttleworth.
Ubuntu on a phone features a new, clean interface that starts with the lock screen, called the "welcome screen" by the Canonical staff. On it, a fluid, flowery pattern displays app information, changing in response to the number of missed calls and texts.
The interface doesn't use hardware buttons at all, relying instead on interaction with the touchscreen. Swiping from various points at the four edges of the display serves as a shortcut to half a dozen commands, including access to phone settings directly from any app without quitting it.
Swiping from right to left also allows users to instantly switch between running tasks, and of course, the traditional Ubuntu interface bar is still there, on the left of the screen.
The phone version of the OS will support both HTML5 apps written for smartphones in general, as well as the native apps specific to Ubuntu, developed using OpenGL, QML and C++. "Gaming on Ubuntu phone is going to be great," said Shuttleworth, quoting a 15 percent rise in processing speed when compared with competitors.
This article appeared on TechWeekEurope. Click here for the full story and video.
Read also :