LinkedIn Hits 200m Members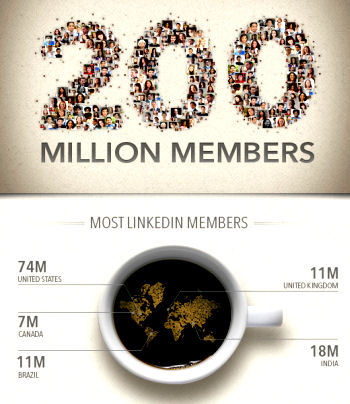 To celebrate its latest milestone, LinkedIn produces a colourful infographic of its highlights
Networking giant LinkedIn has hit a major milestone, as the 200 millionth member signed up this week.
LinkedIn said it now serves over 200 countries and covers 19 languages, and celebrated yesterday by talking up some of its member stories.
LinkedIn love-in
"One of my favourite stories comes from Leonardo Brant from Brazil who founded Cemec, an organisation to help Brazilian professionals and entrepreneurs think creatively about their business challenges," wrote Deep Nishar, senior vice president for products and user experience at LinkedIn. "Today they use LinkedIn as their digital classroom to exchange information and foster a meaningful community to share relevant knowledge."
LinkedIn has had a positive two years, in which it saw its stock traded at $85.90 (£53.19) per share on the launch day of its initial public offering (IPO).
It had an upset last year, however, when 6.5 million of its users saw their passwords stolen, although the damage in terms of account compromises appeared to be minimal.
It has also released a nice infographic today (see TechWeekEurope), showing who is using LinkedIn. The UK has as many users as Brazil, at 11 million.
This article appeared on TechWeekEurope. Click here for the full story.
Read also :