NetSuite Goes Shopping For Retail Anywhere POS Purchase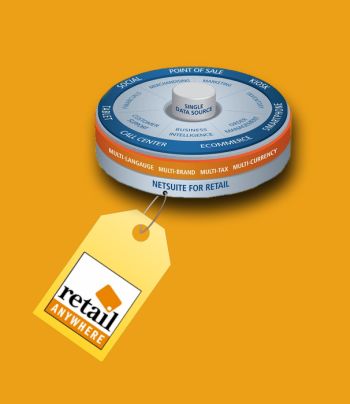 New specialist channel partners will join existing NetSuite resellers to push the benefits of cloud to the retail sector
Software as a service company NetSuite has added a major plank to its bridge into the retail market with the acquisition of Retail Anywhere. The move could open shop for NetSuite's resellers to act as suppliers to retail businesses that have yet to embrace cloud technology.
Andy Lloyd, general manager for Commerce Products at NetSuite, said that the deal brings new opportunities for its channel partners and opens the way for new retail-oriented partners to climb onboard. The company has already started to seek suitable recruits with the necessary experience of selling into the retail space.
"Up to now traditional retailing has been left behind as the rest of the world has embraced cloud technology," he said . "With this acquisition, even brick-and-mortar retailers are able to become part of the rapidly-evolving global commerce cloud."
POS in the cloud
Retail has been a tough nut for cloud companies to crack  with many companies dividing their sales floors, which is still where most business is done, and  retail websites. Using an integrated service, retailers can offer better integration of the business styles.
"It fulfils a strong demand among retailers for a single commerce solution that supports the multiple customer touchpoints a retail business needs to succeed  – from physical points of sale at brick-and-mortar stores, or other locations, to call centres, social media and B2B, B2C, and eCommerce via desktops, laptops, iPhone/iPad, and other smartphones and tablets,"  NetSuite said in a statement.
The company believes the inclusion of POS functionality in its SuiteCommerce platform will bring the retail world into the 21st Century. The suite combines a storefront with the core NetSuite business suite, which includes CRM  and ERP, to offer a customer-centric, cloud e-commerce system. Additionally, it contains capabilities for multiple languages, sites, companies, currencies and assists with tax compliance.
Mobile POS enables retailers to conduct sales transactions, secure payments, print customer receipts, review customer information, perform item look-ups from the sales floor. Sales executives can also check stock levels without having to visit back-of-shop store rooms and to initiate orders for out-of-stock items  to improve the customer experience and possibly save the sale.
Netsuite and Retail Anywhere have been working closely together for some time, with Retail Anywhere partnering NetSuite as a member of the SuiteCloud Developer Network (SDN). Last May, at SuiteWorld, NetSuite's customer conference in the US, Retail Anywhere won an award as SuiteApp Partner of the Year.
Read also :