AT&T Takeover Of European Mobile Carrier Rumoured As EE Closes Stores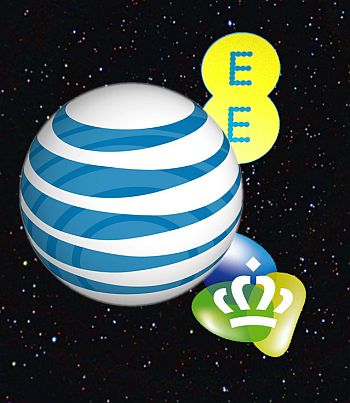 EE or KPN may fall to US giant, meanwhile EE is tidying up by rationalising its high street presence
US carrier AT&T is reportedly considering acquiring a European mobile operator. A popular bet appears to be EE which has just announced a de-duplication of the high street stores inherited from its amalgamation of the Orange and T-Mobile brands.
The Wall Street Journal named EE or the Netherlands' KPN as possible targets. Although it is not known if AT&T is actively involved in any negotiations, executives at the company said they sense a "unique opportunity" to acquire a European counterpart by the end of 2012.
Deutsche Telekom, which co-owns EE with France Telecom, was reported to be receptive to a possible buyout from former EE boss Tom Alexander who was in discussions with private equity groups about a possible takeover bid.
European expansion
AT&T has had an eye on entering the European market for the last decade but now believes that conditions are more favourable to expansion than those in US markets.
Fierce competition and economic problems in Europe have hit operators share prices, combined with the slow roll-out 4G networks. Revenues are still largely dependent on voice and text services and AT&T believes that there is a chance to get a head-start on moving customers onto lucrative data-based pricing schemes. In contrast, the majority of smartphone users in the US are already on these contracts, raising fears of market saturation and greater competition.
AT&T abandoned its £25 billion bid to take over rival T-Mobile USA in December, 2011, after regulators and rivals raised competition fears. Yet competition is likely to increase once Japan's Softbank completes its takeover of Sprint Nextel later this year.
Transatlantic ventures have yielded mixed results and many of the advantages of merger would not be present. There would be no overlap of networks and therefore fewer opportunities to make the cost savings that often justify such a large outlay.
One for all
Since its rebranding late last year, EE has been looking at the distribution of its brick and mortar businesses. Because the company arose from the linking of Orange and T-Mobile as umbrella company Everything Everywhere, the shop makeovers under the EE brand has highlighted duplication of high street shops. These are often near neighbours so EE has decided to close 78 shops of its 720 outlets in a de-duplication exercise.
Initially, no redundancies have been announced and displaced employees are expected to be absorbed in nearby branches.
Read also :