BlackBerry 10 Arrives In UK Today, PlayBook Update Later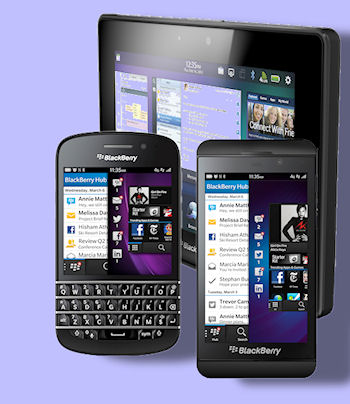 RIM, renamed BlackBerry, launches BB 10 OS as Judgement Day arrives for the troubled company
The company formerly known as RIM has finally unveiled the first two smartphones running the BlackBerry 10 (BB10) operating system. The launch is widely viewed as a critical gambit for the struggling Canadian manufacturer, now known as BlackBerry. CEO Thorsten Heins said that the launch marked the transition from mobile communications to mobile computing.
The 4.1-inch touchscreen BlackBerry Z10 and keyboard-based BlackBerry Q10 have been released in the UK tomorrow on all major networks. The company has also announced that a BB10 upgrade will be available for the current range of PlayBook tablets.
BlackBerry Z10 and Q10
"Today sees a re-invented BlackBerry launching an entirely new mobile experience," Heins said. "We are thrilled to be introducing BlackBerry 10 on the new BlackBerry Z10 and BlackBerry Q10 smartphones, to deliver a faster, smarter experience that continuously adapts to your needs.  Every feature, every gesture, and every detail in BlackBerry 10 is designed to keep you moving."
The BlackBerry Z10 and Q10 boast 1.5GHz dual core processors, 2GB of RAM and 16GB of storage, which can be upgraded via a memory card slot. Both have a micro HDMI port, NFC connectivity, removal batteries and support for LTE networks.
BlackBerry showed off a number of new features during the launch event, including multitasking options as well as Balance which separates work and personal data and apps.
BlackBerry Messenger has also been improved with video calling and the ability to share screens, while the touchscreen keyboard's gesture controls and predictive text capabilities were also showcased.
Big challenge ahead
The company was also keen to stress that there will be 70,000 applications available at launch, including Skype, Kindle WhatsApp, SAP and, most importantly, Angry Birds. It added that deals had been signed with all major music labels and eight major film studios to make their content available on BlackBerry World.
BlackBerry 10 is seen as vital to the company's chances of a revival after seeing its share of the smartphone market eroded by rivals such as Apple and Samsung. It hopes that the platform will appeal to both consumers and the enterprise, bridging the divide between business and pleasure.
It is banking that the administration and security components of the new platform will be enough toconvince corporate and government customers to retain its services.
Last November, Jeff Holleran, senior director of enterprise products at RIM, told TechWeekEuropethat BlackBerry 10 would provide administrators with"a set of tools that don't exist on any other platform."
PlayBook update
Speaking after the launch of BlackBerry 10, Heins was a bit more guarded about the company's future tablet strategy, noting it is trying to find a way to combine software and services, as it has done with its smartphones.
"We are looking for specific value-added services on top of the tablet," Heins is reported to have said, claiming that selling tablets alone was a tough way to make money in the current market.
Apple currently dominates the market with the iPad, but has seen its stranglehold challenged by the advent of smaller, cheaper tablets with lower profit margins and costs recouped through the sale of digital content.
The launch of the BB10 platform is seen as vital to BlackBerry's chance of a recovery after seeing its share of the smartphone market eroded by rivals like Apple and Samsung. The company did not reveal sales targets but stated that it hopes to become the third-largest smartphone manufacturer in the world.
This appeared on TechWeekEurope as two stories. Click here for the phone news and here for the Playbook update.
Read also :