Annual Hard Drive Sales Poised To Drop By Nearly 12 Percent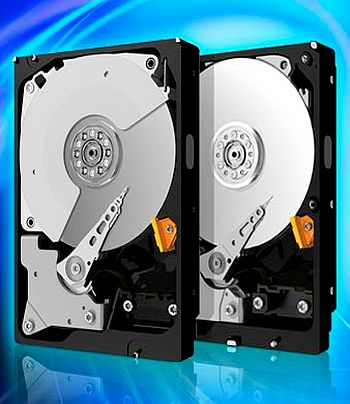 Hard to take but optical drives could go the way of the floppy, claims the latest iSuppli storage report
The sales of smartphones, tablets and solid-state storage are pummelling hard drive revenues, according to a new report. Revenues from hard drives will decrease by 11.8 percent in 2013. Sales are expected to reach $32.7 billion (£20.9bn), down from $37.1 billion (£23.7bn) in 2012.
The prospects for 2014 don't look good, almost flatlining at $32 billion, according to research firm iSuppli.
Hard facts
Shipments of hard drives dropped from 659.7 million in 2010 to 626.3 million in 2011 to 578.1 million in 2012, according to Fang Zhang, an analyst for storage systems at iSuppli.
"The HDD industry will face myriad challenges in 2013," said Zhang. "Shipments for desktop PCs will slip this year, while notebook sales are under pressure as consumers continue to favour smartphones and tablets. The declining price of SSDs also will allow them to take away some share from conventional HDDs."
Hard drives will continue to be the dominant form factor as they will still work out cheaper than solid state drives, Zhang said. This is especially so as " demand for Ultrabooks picks up and hard drives remain essential in business computing".
HDDs overall will maintain market dominance because of their cost advantage over solid-state drives, particularly when higher densities are involved and dollars per gigabyte are calculated. Hard disks costs and pricing are significantly lower than SSDs, with already falling HDD average selling prices expected to decline further this year by seven per cent.
Not the end of the drive
Hard drives will continue to be a part of storage, even in Ultrabooks which make use of an SSD component. Hybrid drives, which cobbles hard disk drives together with a cache SSD module, boasts of a superior price/value proposition compared to solid-state-only counterparts, according to Zhang.
A major growth area for HDDs will be the use of hard disk drives in the business sector spanning the enterprise space, cloud storage, Big Data and analytics. Showing the lowest cost of any storage medium now on the market, HDDs will remain the final destination for the majority of digital content that need to be filed away.
The report was downcast about the prospects of optical drives. Growth of these drives is expected to plummet. This decline stems from a number of changes, including smaller chassis sizes for PCs, a shift in preference among consumers toward video streaming instead of using physical discs, and cost-cutting from PC manufacturers that have lost interest in using optical drives.
"In what appears to be a grim scenario, the optical disk drive industry is expected to encounter continued challenges this year, such as those presented by thinner PC designs. Optical drives could eventually be abandoned by PC makers altogether," said Zhang.
Read also :