Samsung Ventures Makes Investment In Cloudant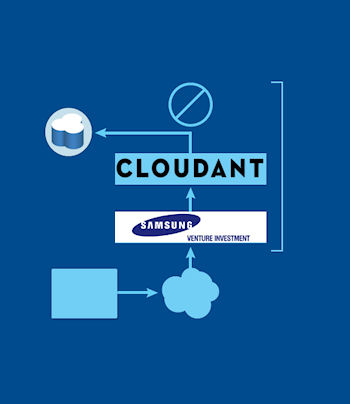 Puts undisclosed sum into Database-as-a-service firm to help push into large enterprises
NoSQL database-as-a-service (DBaaS) company Cloudant has received an investment from Samsung Ventures, the venture capital arm of the Korean electronics behemoth, for an undisclosed sum.
The funding will be used to advance research and development into improving global data distribution technologies and mobile application data management. These are areas that are becoming increasingly important as more and more devices, such as smartphones and tablets, stored and process data in the cloud.
Cloudant also counts the CIA and other US intelligence agencies as backers through an investment from In-Q-Tel. Other investors include, Y Combinator and Avalon Ventures.
Cloudy aspirations
Cloudant's main product is a DBaaS that is used to store, process, transfer and manage data generated by smart devices connected to the cloud.
"Samsung Ventures believes a globally distributed data layer and management of that data is especially critical for large enterprise businesses," Hyuk-Jeen Suh, senior investment manager with Samsung Ventures America, said in a statement. "We felt that this is the right time to strategically invest in Cloudant to support the company's vision to manage the proliferation of data to be created by, for example, mobile devices, machine-to-machine (M2M) technologies, and the 'Internet of things' in the future."
Cloudant has become one of a few firms that Samsung Ventures has been investing in lately. The company also put money into Canadian mobile security and risk management specialists Fixmo. Both technologies could be used by Samsung to integrate them into its consumer offering or to build services for its enterprise customers.
Cloudant CEO Derek Schoettle said his firm was looking forward to enhancing "research and development efforts, especially in the mobile technology platform, to accelerate our progress in the market for database-as-a-service".
Read also :