BlackBerry Z10: The Canadian Company's Comeback Kit?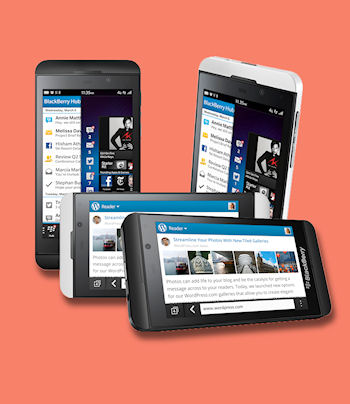 Phones 4U reviews the latest smartphone from the Canadian company formerly known as RIM
The recent launch of the BlackBerry Z10 has signalled the start of new era for Canadian smartphone moguls RIM (who have finally changed their name to BlackBerry). There are hopes that this full touchscreen device sporting the new BlackBerry 10 software can resurrect the company after a tough 2012, but can BlackBerry really compete against the might of Android and iOS?
Z10 features
At first glance, you'd be forgiven for thinking that the Z10 was any other handset rather than a BlackBerry. The company has moved away from the traditional Qwerty keyboard featured on the majority of its handsets, in favour of a 4.2-inch multi-LCD display. This High Definition screen is bright and offers crisp visuals, whether you're watching a movie, playing a game, or using any of the phone's other features.
A display such as this is going to require some power – fortunately BlackBerry has included a 1.5GHz dual-core processor to keep everything running smoothly. Navigation around the UI was lag free, as was game play and video playback.
The BB10 operating system has been designed to provide users with quick access to every single feature and central to this is something called the BlackBerry Hub. It's essentially an area where texts, emails, BlackBerry Messaging (BBM), and social networking messages are gathered together to provide a single view of all communications. A swift right swipe reveals the BlackBerry Hub, no matter what else you're running at the time.

Other highlights include BlackBerry Balance – a feature that allows you to split your UI into two different profiles to keep your work and personal data separate – and extended functionality on the eight megapixel camera in the form of Time Shift. Time Shift allows a user to isolate a person's face in a photograph they've taken and rewind a few frames to get the best shot. It's a really handy feature if your friends always blink when you take a snap.
Competitive edge?
We think you'll agree that BlackBerry has definitely pulled something interesting out of the bag, but whether or not the Z10 can compete with offerings from Samsung and Apple remains unclear. One thing is certain though – the Canadians aren't giving up without a fight.
To find out even more about the BlackBerry Z10 and the BlackBerry 10 operating system check out our handy video review.
This guest blog was originally written for TechWeekEurope by Abbi Cox from  Phones 4u, one of the UK's leading online mobile retailers.
Read also :