Pyreos Gesture Sparks An Assault Wave On Global Mobile Markets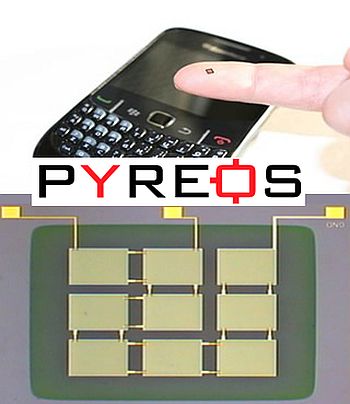 Gesture-interpreting, kinetic mobile technology could create a personal dictatorship at the wave of a hand
Two ticks of a lamb's tail can be a short unit of time – but it can also be a command to conquer the world, if a new gesture-interpreting mobile technology from an Edinburgh-based start up, takes off.
Mobile technology pioneer Pyreos is already expanding and has headhunted two channel sales beasts to create a global market for its infrared-sensor and touchless gesture inventions.
Patently ingenious
Similar to Microsoft Kinect, but more subtle, Pyreos' gesture sensors can interpret movement and turn it into information, according to the company founder and CEO Jeff Wright. The passive miniaturised IR sensor array technology creates massive opportunities in developing applications for hospital operating theatres and other environments where sterile conditions are vital. Conversely, gesture sensors could also help in dirty environments or occupations where thick gloves must be worn.
Pyreos claims its Gesture Sensors exhibit high accuracy with low power requirements, making them ideal for mobile phone and tablet applications. Capable of running off low voltage power supply rails, Gesture Sensors use micro-Amps of power to accurately detect the position of a user's hand and trip software-defined triggers.
Using the technology, a driver could programme their phone to interpret hand signals and issue written commands. For example, in a connected world, a driver who wafted their hand twice to the left could automatically issue a signal to the midlane-hogging driver in front to "MOVE OVER".
"You should have patented that idea before you mentioned it, as I like it too," said Wright. "That and other simple commands are very do-able. We do have interest from the automotive industry for the gesture sensor as it is generally accepted as improving driver safety when compared to trying to press a button."
Wright said he would be looking for creative partners who want to break new ground in a variety of markets that could use touchless, gesture control of mobile phones and tablet PCs. The opportunities range from prevention of gear box failure in wind turbines, ships and helicopters, to the early detection of diabetes, he said.
Pyreos has 100 granted patents and applications. It is currently backed by venture capital from Siemens, Robert Bosch Venture Capital and Mitsubishi-UFJ of Japan.
Sales channel
Pyreos is currently ramping up its sales team to boost global sales. Jeff Gray (pictured) will bring 20 years experience of building venture-capital-backed outfits to his position as VP of worldwide sales. Gray has previously created and managed sales channels for Glonav, Chipidea and On-Ramp Wireless.
Roy Goodloe has been appointed as sales director for the USA with a brief to capitalise on the interest from US mobile vendors in the company's miniature thin-film, infra-red sensor arrays.
"The level of interest is just astounding," said Gray. Infrared sensors are a growth area, but Pyreos' gesture sensor invention has attracted curiosity from tier-one players across the world's semiconductor and consumer industries. "I am looking forward to developing our sales channels and partnership programme worldwide," he said.
The two new players will report to recently-appointed chairman Howard Ford. As managing director of Equant Network Services, Howard orchestrated rapid growth and a multi-billion pound flotation of the company on the New York Stock Exchange (NYSE) and Paris Bourse.
Read also :