ForeScout And MobileIron Join Forces On BYOD Security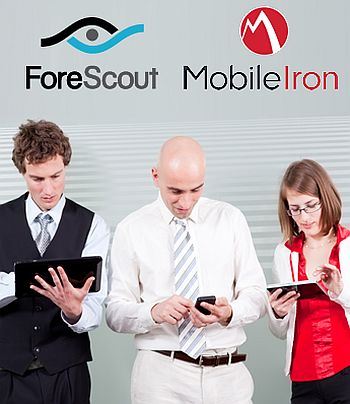 The companies have combined their products to protect companies having BYOD imposed upon them
ForeScout Technologies and MobileIron have announced ForeScout Mobile, a multi-layered security system for enterprises that are increasingly being forced into catering for bring your own device (BYOD) architectures.
Gartner analysts Lawrence Orans and John Pescatore wrote in their 2012 Magic Quadrant for Network Access Control (NAC), "Even where BYOD is not allowed, IT organisations are being forced to deploy and support a diverse array of mobile devices, with varying degrees of management control/visibility and policy enforcement. NAC's ability to detect what type of device is connecting to the network and apply limited access capability when required is a core component of limiting risk, while meeting the demand for 'any device I want to use'."
To combat this, the two companies have integrated the MobileIron interoperability platform with ForeScout's CounterACT to unify the visibility and control of mobile devices, users, applications, data, and network attributes.
Device controls
"The BYOD phenomenon is delivering strong growth for companies like ForeScout and MobileIron. Thus, it's not surprising that our joint customers are asking for the integration of mobile device management and network access control as an essential part of a comprehensive BYOD security strategy that enables productivity while ensuring compliance and the protection of sensitive information," said Gord Boyce, CEO of ForeScout.
The add-on module for the ForeScout CounterACT network access control (NAC) platform allows organisations to phase-in BYOD and "right-size" their mobile security investments for different classes of users, devices and applications, the companies said.
In real-time, the combined platform detects unmanaged devices, such as iPads, iPhones and Android devices, that are attempting to connect to the corporate network. It then automatically applies a variety of network and device-based controls, such as allow, block/quarantine, limit, enrol as guest, segregate and initiate device compliance inspection.
Bob Tinker, CEO of MobileIron, commented,  "Enterprises are becoming 'mobile first' organisations as they move beyond device security and focus on enabling employee productivity with mobile technology. Two things have to happen to make this possible. First, employee access to corporate resources has to be easy and seamless. Second, security needs to be enterprise-grade but it can't impede the employee's productivity."
ForeScout Mobile adds MobileIron's mobile device management(MDM) agent on any unmanaged devices through a simple self-enrolment process. It then detects if the device is jail-broken or rooted and can block, or limit network access, until the situation is remediated.
When a device tries to connect to a company's Wi-Fi network, mobile device compliance re-assessment is initiated to check for potential threats. It also enforces passcode policies and the use of strong encryption keys to protect sensitive data on the mobile devices.
The ForeScout Mobile integration module will be available in March and starts at about $28 (£18) per device, with volume discounts available.
Read also :