Data Centre World: Low Cost Power And Heat Monitoring From AIT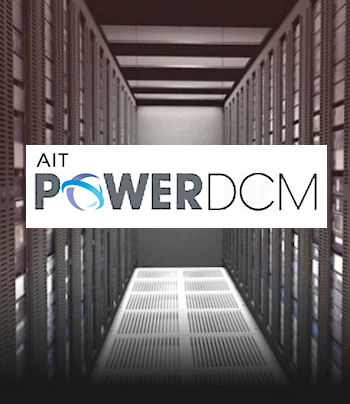 Using an Intel DCM base, AIT's PowerDCM can green-up a data centre and save on power costs
AIT Partnership has launched a power and temperature monitoring system based on Intel's DCM (Data Centre Management) engine.
The announcement at the Data Centre World expo in London promised a low-cost alternative to other data centre infrastructure management (DCIM) products currently available. AIT's PowerDCM enables managers to collect data directly from their  servers, blades and other infrastructure hardware without using additional equipment.
Rapid ROI claims
AIT has set prices to start at £2,500 for companies seeking to benefit from the infrastructure management software. The system does not require temperature sensors mounted in the cabinet because Intel DCM measures the actual temperature at the server inlet. By measuring the heat here, it allows mangers to decide if the room temperature can be raised or rack densities increased without exceeding thresholds.
Within tolerances, raising the data centre temperature by just 1°C  in a data centre with 100 racks could save £15,000 a year – assuming a charge of 10 pence per kilowatt-hour.
Andrew Gibson, director of DCIM services at AIT, said, "By knowing actual data, operations teams can make informed decisions to increase server densities per rack, choose the most efficient server types or save costs by removing inefficient/older servers altogether. Whether reducing daily energy costs, or making existing assets work harder and deferring Capex spend, PowerDCM provides a real alternative to expensive, all encompassing, DCIM solutions that are difficult to integrate and use."
The reporting and dashboard features provide data on peak and average power, plus temperature trends at server, cabinet and room levels.  Comparing this real time data with budgeted estimates can free-up hidden stranded capacity.
The combination of power, cooling and floorspace leads to capacity that cannot be used by IT loads due to the design or configuration of the system. This "stranded capacity" can lead to unnecessary and costly configurations. Knowing where these hotspots occur allows the reconfiguration of racks to eliminate the problem and spread the hotter-running servers more effectively.
PowerDCM can deliver further savings by identifying "zombie servers", those that are not in use but consuming power, and inefficient servers. A powered-up 500W server could waste £400 a year in energy costs.
The result is a greener data centre which saves money on cooling costs and  may reduce the expense of installing new racks.