ViaSat Opens Its Secure Disks and Comms Portfolio To The UK Channel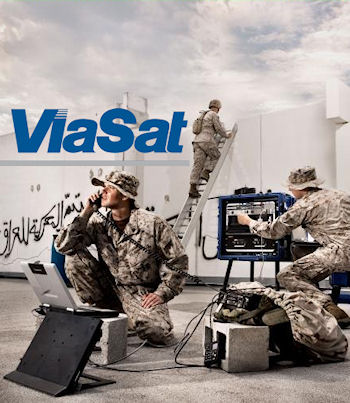 ViaSat is becoming channel-friendly with customisable products and services for resellers and systems integrators
ViaSat has announced that it will be offering its full range of products and services to the UK channel for the first time. The company has made its full portfolio of security and communications products as well as its manufacturing capabilities available to any interested partners.
ViaSat claims to offer "everything channel partners need", from off-the-shelf products, through bespoke projects, to custom manufacturing and training. This will allow its new partners to offer cyber security and information assurance, and portable, high-speed satellite communication services.
Security and satellites
The company's products have been used by military, government and private organisations from its accredited, secure manufacturing facilities. This means that, apart from its standard range of products, it can create bespoke products to meet specific customers' needs. This is backed up by training in custom manufacturing at its own accredited, secure manufacturing facilities or on a consulting basis.
"Organisations want to keep and share information quickly, reliably and securely," said Paul Thackeray. "For such a simple need there is an increasingly crowded market: integrators and resellers must find more and more ways to differentiate the quality of their offerings. ViaSat has a long pedigree of manufacturing and providing bespoke and off-the-shelf communications and security technology to organisations with the toughest demands possible."
Thackeray is the company's new sales director with over 15 years' experience in the technology industry. At Barracuda Networks he set up its UK branch and EMEA-wide partner programme from scratch.
ViaSat may be better known as a satellite communications company but its acquisition of Stonewood Encryption in 2010 placed it firmly in the secure encrypted hard drive market. In the bespoke arena, the manufacturing facility will be able to apply the same high level of security to any storage to meet its partners customers' needs.
In its traditional market, ViaSat offers a range of high-speed broadband services based on its satellite technology. From simple communications, to remote activation of security and ensuring an unbroken line of contact with workers, the channel can provide tried and tested communications for those who cannot rely on fixed-line broadband.
"ViaSat is at the heart of two of the most important technologies of the 21st century: security and network communications," said Thackeray. "Our partners in the channel will be able to offer their customers capabilities at the forefront of technology in areas as critical as cyber security, data protection, broadband connectivity and satellite communication."