VMware Tweet On Launch Of Public Cloud Service Disappears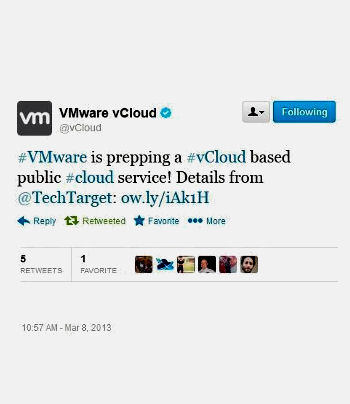 A mystery VMware message on Twitter about vCloud public service is rapidly deleted
A mysterious Twitter message from  VMware has fuelled rumours that the virtualisation giant is planning to launch its own public  cloud service based on the vCloud technology it provides – even though the ~Tweet was quickly deleted.
Reports have circulated for some time that VMware is preparing its own enterprise-grade Infrastructure-as-a-Service (IaaS) offering to compete with the likes of Amazon EC2, and the Twitter message appeared to reinforce this, stating: "VMware is prepping a vCloud-based public cloud service!"
Service 'in testing'
The message included a link to a report suggesting that VMware has begun inviting customers to take part in a private beta-test of the rumoured public cloud service.
The message, posted to more than 31,000 followers of VMware's vCloud Twitter account on Friday morning, was quickly deleted but not before news websites such as CRN took screenshots of it. VMware did not immediately respond to a TechWeekEurope request for comment on the matter.
However, a number of reports have for some time indicated that VMware is developing a public cloud service to rival that offered by Amazon, which could be ready for launch by mid-April.
VMware has been building up its vCloud product line for the past two years, most recently via acquisitions, and in February of this year the company launched its vCloud Integration Manager to help cloud service providers automate the delivery and operations of vCloud Director-based clouds.
To date the company has left the actual deployment of public cloud offerings to its partners, with more than 200 service providers currently offering vCloud-based services in 31 countries.
This first appeared on TechWeekEurope UK. Read the whole story here.