Channel Play As VMware Confirms 2013 Hybrid Cloud Launch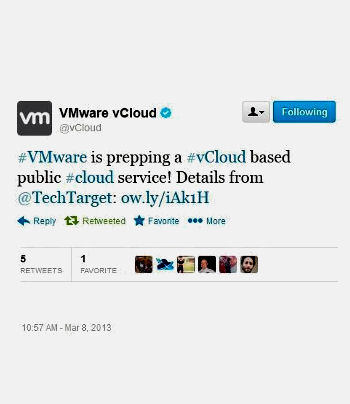 VMware has finally confirmed its long-rumoured and mis-Tweeted Hybrid Cloud service offering
VMware executives finally confirmed the arrival of its hybrid cloud service offering.
According to the company, the product will allow its 480,000 customers to benefit from the public cloud without the need to change their existing applications, while using a common management, orchestration, networking and security model.
Channel route
The launch of the VMware vCloud Hybrid Service has been slated for later this year and the company intends to offer it via its existing channel, and use its "extensive partner ecosystem to accelerate customers' journeys to the cloud".
The channel element is important to note here as it seems that, rather than adopting the Amazon AWS approach of building its own bespoke data centres for this cloud service, VMware will make use of the existing facilities from its partners and service providers. It currently has more than 200 service providers offering vCloud-based services in 31 countries.
After teasing about the arrival of its hybrid cloud service, the company revealed the creation of a new business unit. The Hybrid Cloud Services unit will be led by former Savvis president Bill Fathers, who is now senior vice president and general manager of the VMware unit.
"Bill understands how to drive adoption of enterprise cloud services and has a clear vision to build and strengthen our newly formed Hybrid Cloud Services business unit," explained Pat Gelsinger, CEO of VMware, during an investor event. "With his expertise and proven ecosystem mindset, VMware and its partners will deliver the richest set of complementary cloud offerings and empower our customers to achieve maximum value from their hybrid cloud investments."
"Enterprise adoption of cloud services is ramping exponentially and VMware is uniquely positioned to deliver on the promise of hybrid cloud," stated Fathers. "I look forward to leading the new hybrid Hybrid Cloud Services business unit and partnering with our ecosystem to provide customers the ultimate flexibility in how they deploy existing and new applications – on premise, off-premise, or through whatever combination works best for their business needs."
VMware has been building up its vCloud product line for the past two years, most recently via acquisitions, and in February of this year the company launched its vCloud Integration Manager to help cloud service providers automate the delivery and operations of VMware vCloud Director-based clouds.
Another big clue was dropped last August when VMware launched a trial cloud service, called vCloud Service Evaluation, which allowed potential customers to try out vCloud-based services on VMware's own infrastructure.
And at its Partner Exchange conference last month VMware chief executive Pat Gelsinger made it clear the company was targeting the public cloud in general and Amazon in particular. If the corporate workload goes to Amazon, "you lose, and we have lost forever," he reportedly said.
This first appeared on TechWeekEurope UK. Read the whole story here.
Read also :