Intelligent Shelving Specialist From France Seeks Dynamic Resellers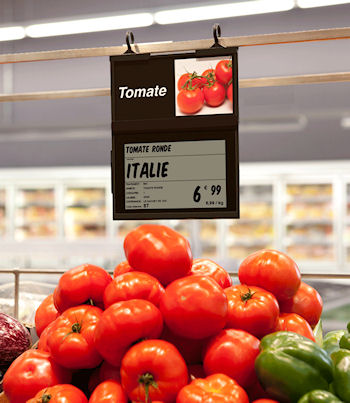 Interactive food labels could satisfy shoppers' new-found thirst for information – from stable to table, so to speak
French vendor SeS (Store Electronic Systems) is recruiting ERP and CRM experts in the UK with the launch of its electronic shelf-labelling invention in the UK. Resellers and systems integrators with Microsoft Dynamics experience, and preferably retail business knowledge, will be a priority.
The vendor is a market leader in its home country, where laws about food labelling are much stricter than in the UK, with companies facing multi-million pound fines for violations over product and price information.
Shelfware sells
"If a product is priced differently in different parts of a shop the owner can face massive fines," said SeS marketing project manager Adrien Boudier, "so we created the technology to synchronise prices across the board. But we've built on that to synchronise everything else; the logistics, the levels of stock, everything."
SeS's electronic shelf labelling displays, which in effect are mini computers that can display unlimited information, are designed to satisfy the consumer's need for more information on the products they buy. The displays can publish videos, web information, pictures and text.
The "horse meat" scandal could benefit UK resellers as new inventions are launched to feed consumer demand for better information, argued Boudier. "You can publish the entire history of a beef steak, from stable to slaughterhouse, to reassure consumers of the quality of the produce," he explained.
"Suppliers, farmers and shops could do much more to talk directly to the customer via this technology," said Boudier. "This could become a new marketing media that the retailers could sell to the suppliers. Graphical and NFC information will be a big trend in the UK this year."