Hybris Launches "Omni-channel" Commerce Platform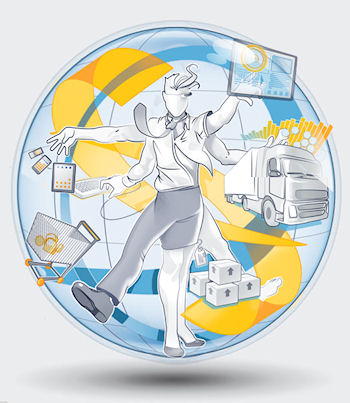 Vendor's hubris as it claims world first platform for both in-store and online shopping retail processes
Commerce platform provider Hybris has launched the latest release of its Commerce Suite, which it claims is the "first" commerce platform to give B2B and B2C organisations true "omni-channel" capabilities on a single technology stack. Though companies like NetSuite may choose to argue against the claim to be first.
Among the new features are consumer and in-store business tools to manage functions like "buy online, pick up in store", businesses can now design, develop and deploy commerce services quickly and over more channels.
Mobile extensions
An Order Management Services for OmniCommerce extends Hybris' ordering capabilities by enabling businesses to support any fulfilment process that goes across both in-store and online channels.
The services provide an overview of a customer's entire inventory, sourcing and allocation positions to optimise fulfilment processes, and "pick, pack and ship" capability to support the operational processes in-store. This, it said, ensured more convenience for shoppers while reducing operational costs for businesses.
The Hybris InStore Module enables high street shops to benefit from the product data and business process support offered by the vendor. This means that shop staff can use a tablet to allow customers to check out reviews and ratings of product while in store. The user interface includes QR-Code reading as well as NFC capabilities, shows stock levels across the entire organisation, and displays product information to help customers choose the right products.
There are also new native Mobile App SDKs for iOS and Android so businesses can build mobile store apps. These include pre-designed mobile storefront templates that include QR code scanning, NFC tag recognition, customer management, mobile search and check-out out of the box.
"Retailers, brands and manufacturers are racing to meet the increasing demands of the modern consumer. Businesses need to have systems that allow them to innovate faster. With the Hybris Commerce Suite, implementing an omni-channel vision is no longer a multi-year process for B2C and B2B businesses," said Ariel Luedi, CEO of Hybris. "It is now within the realm of possibility for them to set up a true omni-channel commerce platform in under six months."
Read also :