SugarCRM Previews Its Upcoming Release With Social Awareness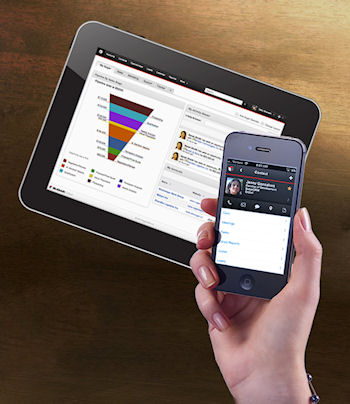 Sugar 7's customisable interface uses HTML5 to suit tablets and integrate with social media streams
SugarCRM has released a preview version of Sugar 7, the next-generation of its customer relationship management software as a service platform. The new features were unveiled and demonstrated at SugarCon 2013 in New York.
The most striking feature is a new user interface, the Intelligence Panel, which combines business, online and social-customer information on a single dashboard.
Social service
Intelligence Panel makes customer contacts more efficient, SugarCRM claimed, by making all information relating to the contact available and visible. This is achieved by allowing every customer screen to be customised to avoid undesirable "noise" being shown that can distract the vendor from key contact information.
"Social, mobile and cloud computing are fundamentally changing how people interact with their customers, and ultimately the nature of CRM," said Larry Augustin, CEO of SugarCRM. "The Sugar 7 solution departs from CRM software's traditional focus on internal management of the sales team. Sugar 7 focuses first on the needs of the user who interacts one-to-one with the customer."
The latest release is built on HTML5 to increase the speed of the interface and incorporate features for using the service on a tablet or mobile phone as well as traditional PCs.
The company said it has enabled collaboration through social media to allow the user to communicate with their customers through whatever medium suits the transaction. Activity streams are integrated into the CRM to ensure all information is up-to-date and the use of open source HTML5 ensures compatibility with third-party collaboration tools.
Users can tag, follow and share customer and deal activity which allows them to monitor and keep up with relevant and trending information.
Paul Greenberg, CRM guru and president of The 56 Group, commented, "SugarCRM understands the new rules of customer engagement – and, as such, is aiming to help its users create meaningful experiences that add value for the customer. It is refreshing to see a renewed focus not only on the customer at every point of contact, but also the CRM end-user – whose experience is just as important in making one-to-one connections matter in the larger context of helping to personalise mass engagement."
Sugar 7 will be generally available sometime during summer this year.
Read also :