IBM Pinpoints MobileFirst And Launches MessageSight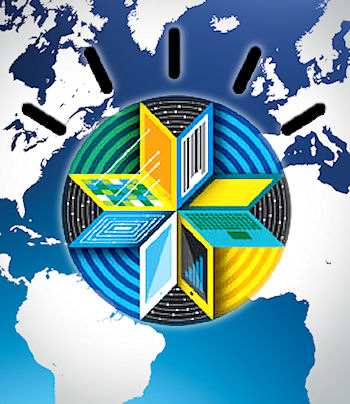 IBM's planet gets smarter with a MessageSight appliance for M2M and geo-enabled MobileFirst
IBM has targeted the mobility needs of enterprises with the announcement of new software, hardware and services in support of its Smarter Planet strategy at the IBM Impact 2013 conference currently being held in Las Vegas (28 April to 2 May).
This included extension of its MobileFirst  portfolio with the introduction of new mobile analytics capabilities and cloud services that enable users to design more engaging mobile offerings to reach customers, partners and employees in new and compelling ways. As a result, mobile apps can be constantly tailored to meet the needs of the specific audience they are trying to reach.
Enterprise mobility
Introduced in February, IBM MobileFirst is a collection of mobile enterprise software, services, cloud, and analytics capabilities that help a corporation design, deploy, secure, and manage mobile strategies and apps.
Using mobile analytics to collect usage data is an effective way for companies to create a better user experience and target their customers. IBM's MobileFirst platform speeds the process of building apps by enabling companies to integrate analytics and capture the complete on-device experience of how customers are using apps, including insight into gestures, dwell time and navigation.
The MobileFirst platform now includes geo-location services for developers. Geo-location triggers can be used to extend applications to take contextual action based on a user's location to provide personalised service. Featuring a new toolkit, developers can more efficiently monitor battery and network bandwidth. Additionally, newly integrated mobile app-testing capabilities enable organisations to improve app quality while reducing the effort needed to test across different mobile platforms.
IBM is also introducing new cloud services for mobile so that companies can focus on creating compelling user experiences, rather than spending time on back-end connectivity and integration issues. This includes a new mobile marketing service that helps organisations create digital passes for employees in Apple's Passbook. Accessed through the cloud, the service enables organisations to quickly design and issue passes for loyalty, events, ticketing, payments and more without having to purchase on-premise development tools.
Sense and sensitivity
IBM's Smarter Planet strategy took a major technological step forward with the introduction of IBM MessageSight on 29 April, an appliance designed to help organisations manage and communicate with the billions of mobile devices and sensors found in systems such as automobiles, traffic management systems, smart buildings and household appliances.
Building on the Message Queuing Telemetry Transport (MQTT) technology, IBM MessageSight delivers the performance, value and simplicity that organisations need to accommodate the multitude of mobile devices and sensors. This enables large volumes of events to be processed in near-real-time, allowing organisations to consolidate all the information in one place and more easily glean insights to make better business decisions. IBM MessageSight is capable of supporting 1 million concurrent sensors or smart devices and can scale up to 13 million messages per second.
Over the next 15 years, the number of machines and sensors connected to the Internet will explode. According to IMS Research, there will be more than 22 billion web-connected devices by 2020.These new devices will generate more than 2.5 quintillion bytes of new data every day, while every hour enough information is consumed by Internet traffic to fill seven million DVDs.
The ability of IBM MessageSight to handle and route massive volumes of messages makes it ideal for use by governments and organisations looking to connect and infuse intelligence into cities and across industries such as automotive, health care and finance.
For instance, a car manufacturer can use IBM MessageSight to help manage the features and services of its vehicles. With thousands of sensors in each car, a dealer can now be notified when a "check engine" light turns on in a specific car. Based on the information transmitted by the engine sensor, the dealer could then notify the owner that there is a critical problem and they should get their car serviced immediately, IBM said.
The vast majority of the 22 billion sensors will be found in devices that are mobile. And IBM MessageSight is designed to complement and extend the IBM MobileFirst offerings, now enabling a corporation to create mobile solutions, and manage and monitor those mobile devices in real time.
Fundamental to IBM MessageSight is its support of the Message Queue Telemetry Transport (MQTT) protocol, which was recently proposed to the Organisation for the Advancement of Structured Information Standards (Oasis) programme, providing a lightweight messaging transport for communication in machine-to-machine (M2M) and mobile environments. Sensors are often small, and have low-power and typically low communications bandwidth capabilities. MQTT can be used in conjunction with these devices. Its low-power consumption, high performance and reliability allow real-time updates that can be acted on immediately.
This first appeared on TechWeekEurope UK. Read the whole story here.
Read also :