Windows 8 Shocker As Microsoft Threatens A U-turn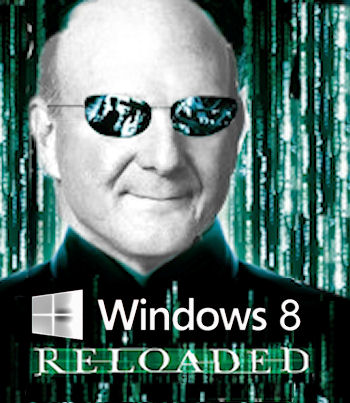 Windows boss confirms rumours of a revamp of ailing Windows 8 operating systems
Microsoft is taking action to make Windows 8 more attractive to consumers in what is being seen as an admission of failure by the Redmond behemoth.
An updated version of the operating system, expected later this year, will make it more user-friendly, the company told the Financial Times.
Key changes
According to the newspaper, Tammy Reller, chief marketing officer and chief financial officer for Microsoft Windows, admitted that "key aspects" of the software will be changed. "The learning curve is definitely real," she admitted.
Sales of Windows 8 have been disappointing, relying heavily on OEM partners of Microsoft adopting the operating system for new computer designs. Upgraders have been less keen on buying into the proposition.
Last September, a survey by Windows 8 Forums of 50,000 users revealed that more than half Windows 8 users still preferred Windows 7. Only a quarter of respondents named Windows 8 as their favourite, citing the fast boot and shut down as their favourite feature. Only 22 percent named the touch screen UI as their most-liked feature.
Despite the FT interview, Microsoft has yet officially to confirm what is being hailed as the biggest U-turn since the "new-recipe" Coke climb-down by Coca Cola in 1985. The impact on the company will be huge – and not just the effect it has on its reputation.
Enterprises that have invested in costly and long-term upgrades of their computers will probably stall their efforts until Microsoft clarifies the situation. It is not known whether the changes will mean applying a "fix" or whether a complete re-installation will be required. This will impact many channel players that have contracted to undertake upgrades for their customers – or may have persuaded their customers to go with Windows 8.
More critical to Microsoft is the effect it will have on sales of its Surface tablets. Judging by Reller's comment, the changes will probably affect all versions of the OS, including the RT release running on Microsoft's tablets. This would be a major blow to the company's hopes to challenge Apple's iPad dominance and Android's rapid growth in this crucial market – just as sales reports were picking up.
Steve Ballmer, Microsoft's CEO, made no secret that the launch of Windows 8 was a "bet the company" event. The share markets have yet to react to the news, and may not until Microsoft makes an official announcement of what the changes will involve. If a major revamp is on the cards the effect on Microsoft's fortune and reputation could be catastrophic.
Read also :