Portfolio Additions As Seagate Gets Serious About SSDs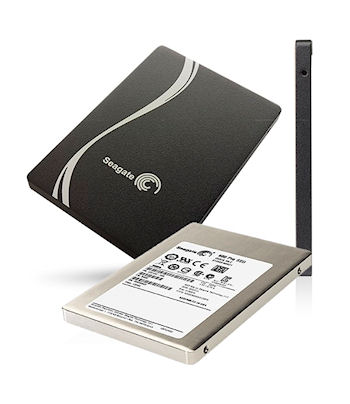 As it launches four new drives, the HDD giant announces a new flash storage strategy
Seagate, one of the world's largest manufacturers of hard disk drives, has announced four new solid state drives (SSDs) that will spearhead its new flash strategy.
The new drives include consumer-friendly 600 SSD and 600 SSD Pro models, enterprise-grade 1200 SSD, and even a superfast flash PCIe appliance for the data centre developed jointly with its partner Virident, the X8 Accelerator, which Seagate claims is "twice as fast as the nearest competitor".
By launching several new product lines, the company hopes to own the broadest storage device portfolio in the industry.
Solid plans
Seagate has been a leader in hard drive development ever since releasing the 5MB ST-506, the first 5.25-inch hard drive, back in 1980. The company shipped 47 Exabytes of memory in the third quarter of 2012, and it says that although the volume of units has remained flat, the capacity has increased considerably. Earlier this month, Seagate reported revenue of $3.5 billion (£2.25bn) for the aforementioned quarter, and net income of $416 million (£268m).
Despite its dominant position in the HDD market, Seagate has been very slow in adapting flash storage solutions, currently offering just the Pulsar performance drive and several hybrid devices for desktops and laptops. That is about to change.
"Last year, we set up a dedicated business unit to focus specifically on SSD, headed by seasoned industry veterans. Their responsibilities included everything from design and engineering through to sales and marketing, of a product strategy based around flash technology. What we are talking about today is the delivery of that project," said Mark Whitby, VP of EMEA Sales and Marketing, at a press briefing last week.
Solid pricing
Seagate is launching not one, but four very different storage devices. The lower bracket is occupied by the 2.5-inch 600 SSD which can instantly halve load times and cut down boot speeds of a desktop or laptop by three quarters. It delivers the highest IOPS/watt among Seagate products, improving system performance and reducing power and cooling costs for data centre and cloud applications, at a cost of £99 for 120GB.
The 600 Pro promises best-in-class performance efficiency and power loss data protection at a  price of £149 for 120 GB. The random read and write speeds are quoted as 85K and 40K IOPS respectively.
A step up, the Seagate 1200 SSD adds 12 Gbps dual port SAS compatibility to the mix and promises advanced error recovery and enterprise-grade data security for complex workloads and situations where speed of transactions is essential. The drive is capable of 120K IOPS random read and 40K random write speeds, and can support 10 complete drive writes per day, growing to 25 writes for the High Endurance model.
In January, Seagate agreed to partner with Virident to jointly develop enterprise PCIe flash solutions. The deal saw Seagate invest into the US flash expert, and in return, Virident helped create the X8 Accelerator – a device that's closer to DRAM than it is to storage. The small PCIe card fits in any server and can "turbocharge" application performance with industry-leading random read and write speeds of 350 and 103 KIOPS respectively.
This first appeared on TechWeekEurope UK. Read the whole story here.
Read also :