Toshiba Scrappage Scheme Helps Resellers Profit From Old Desktops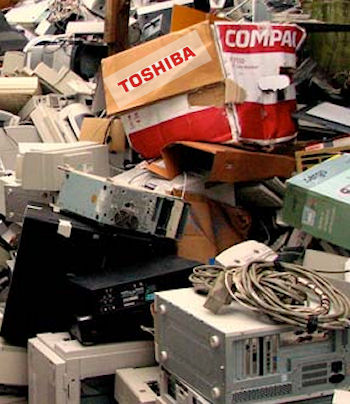 Toshiba offers SMBs incentives to Cash In the Static by trading their desktop PCs for portables
Toshiba has launched a new PC scrappage scheme to help boost laptop sales and lower the landfill footprint of doomed desktops – just as a Gartner report shows that desktops are falling away dramatically.
According to research by Gartner, the PC market in Western Europe declined by 20.5 percent in the first quarter of 2013, with France showing the weakest shipments, but Germany and the UK PC markets in a similar state of decay.
Scrapheap challenge
Even the wide availability of Windows 8-based PCs could not revive the dying breed, noted Meike Escherich, principal research analyst at Gartner. "Though the user interface suits new form factors, users still wonder about its suitability for traditional PCs – non touchscreen desktops and notebooks," said Escherich.
"This ongoing trend will have a profound impact on the size of the installed base of PCs," said Ms Escherich.
Meanwhile, Toshiba has announced a new scrappage scheme that could hasten the demise of desktop PCs. The Desktop Scrappage Scheme for SMBs offers small and medium-sized businesses a fixed £200 contribution towards a new Toshiba Portégé Z930 Ultrabook for each desktop they remove from their office. Toshiba says it wants to encourage more mobility among computer users.
Toshiba said the scheme gives resellers an easy and cheap proposition as SMBs ready themselves for flexible working. Channel partners could win new clients and boost sales as the Ultrabook range gives them a broader range of options, claimed the vendor.
The launch is timed for National Work From Home Day on Friday.
"As mobility experts with 28 years of experience in the SMB sector we know it's not about bringing your own device," said Santiago Alviar-Baquero, head of SMB and distribution, for Toshiba in northern Europe, "it's about bringing the right device."
Through an online portal, businesses can submit working desktops of any size to Toshiba's scheme. All parts submitted will either be reused or recycled through Toshiba's recycling partner in an environmentally friendly and secure manner, the vendor said.
Darren Seward, commercial manager at IT distributor Westcoast, said he would support the 'scrap your own desktop' scheme. "It will give SMBs a real financial incentive and gives resellers a great reason to engage with their customers."
It's a good environmental message and the £200 bribe will have SMBs "chomping at the opportunity" said Andrew Henderson, MD of reseller partner Lanway CBS. "It's really going to drive our sales of the new Ultrabook," he said.
The Portégé Z930 is also eligible for Toshiba's Refund Reliability Guarantee allowing customers to get their laptop repaired and their money back if it fails.