Electronic Receipts Get Massive Vote Of Confidence From Booths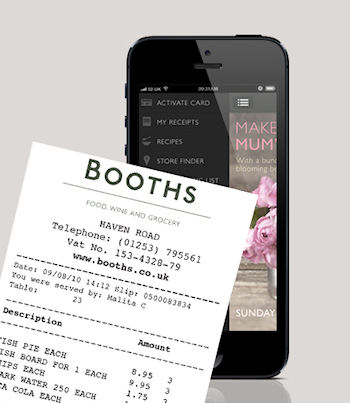 Uptake of eReceipts means you get less paperwork, better control and more marketing
Systems integrator Paperless Receipts has installed its eReceipts technology in all 29 stores of retail chain Booths.
The 160-year old food, wine and grocery retailer is now a technology leader, as it becomes the first large retailer to adopt the technology, which generates electronic receipts (eReceipts) that are sent direct to a customer's cloud-based account.
Electronic receipts
Paperless Receipts, chaired by ex Tesco CEO Lord MacLaurin, could be as successful as his previous big idea, the Clubcard, he argued. With the successful adoption of e-receipts by Booths, many retail focused VARs now have a powerful argument to sell similar solutions to the retail and hospitality industries, according to MacLaurin.
While Booths customers will be spared the hassle of storing paper receipts, the retailer also benefits by being able to push unique and relevant information to each customer according to their data profiles. According to Chris Dee, chief operating officer at Booths: "We want to provide the best shopping experience and see eReceipts as the future. It's important to track where their money is spent and this free service will allow customers to shop more smartly."
The technology, launched this week as part of the new Booths Card, allows customers to access eReceipts via the Booths web and mobile apps. Customers can also analyse their spend according to specific categories. The Booths Card will also offer a whole host of other exclusive benefits to customers.
Initially both paper and electronic receipts will be issued but eventually Booths will save around 100,000 till rolls each year.
Paperless Receipts' CEO Andrew Carroll said that the decision taken by Booths was a massive vote of confidence for the technology: "For a retailer with a turnover in excess of £270 million to adopt the eReceipts platform shows enormous vision."
There is plenty of opportunity for the channel here, according to Carroll, who said that electronic receipts could work for any of the 10 largest retailers in the UK.