Stagnating PC Sales Create Upgrade Service Opportunity Claims Crucial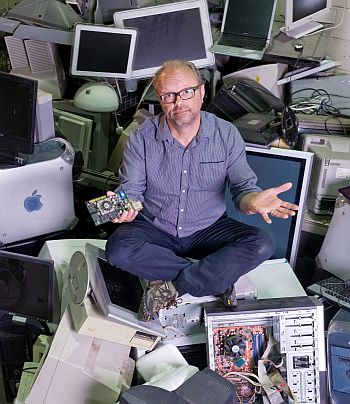 Nobody wants to junk their computer – but they'd gladly pay someone to upgrade it
Resellers could make a fortune exploiting the general public's twin fears of two types of environment, according to storage and memory specialist Crucial, which claimed there is a potential market of nearly £2 billion to chase.
According to the vendor's research, Britain's PC and laptop scrapheap increases by 5,528 tonnes every year, equivalent to 790 double-decker buses, even though it appears nobody wants to throw away their computer and buy a new one if they can avoid it. The problem, according to Crucial, is that memory and Solid State Disks (SSD) can improve an ageing computer but owners either can't or don't want to do the upgrade themselves. This is creating a massive service opportunity for the channel, the vendor claimed.
Scrapheap challenge
The component vendor, which specialises in memory and storage for desktop PCs, Macs and laptops, said the public are worried about the destruction of the global environment – but they seem just as nervous about opening up their computers, according to Crucial's study. These two phobias are creating a massive opportunity for IT service providers. Resellers that can install memory and SSDs in their client's computers can help to rescue the planet and save the nation a total of £1.78 billion for , the company has calculated.
An in-depth survey of over 2,000 Britains aged from 18-70 indicates that 57 percent of the UK population could be looking to purchase a new computer this year.  If the survey sample is typical of the entire nation, then 41 percent of those are only looking for a new machine because they have performance problems. These problems could be solved at a fraction of the cost of a new machine by upgrading the memory and SSD, according to Crucial. The vast majority of computer users (88%) would welcome this, said the survey, but too many people are afraid of delving inside their computers.
This has created a massive opportunity for resellers to offer a service that has the advantages of a low cost of entry and higher margins than selling PCs and laptops, Crucial claimed. Margins on services are always higher and there is no risk of holding expensive stock, argued Roddy McLean, a computer upgrade expert from Crucial. Environmental fears can also be channelled into a force for sales, according to the vendor.
"People often go out and buy a brand new computer simply because their old one does not perform as quickly as it used to, and this habit can be extremely costly, time consuming, and damaging to the environment," said McLean. "Rather than discarding a perfectly good computer, the problem of a slow-running laptop or PC can be resolved in as little as 10 minutes with an easy system memory or SSD upgrade."
Crucial has turned to Channel 4's former Scrapheap Challenge presenter Robert Llewellyn to highlight the problem:
Read also :