Civica Wins West Worcestershire Financial Services Deal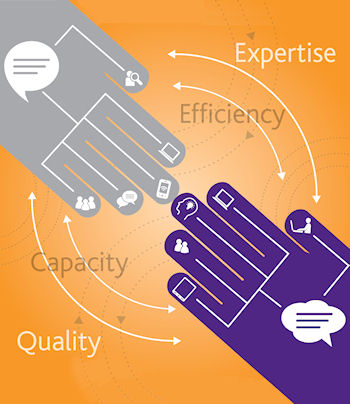 Integrator hopes to save local authorities £3 million over the next five years
Civica has bagged a deal with three local authorities in Worcestershire that will see a partnership set up to provide services to the council areas.
Civica said the partnership with between Malvern Hills District Council, Worcester City Council and Wychavon District Council should see the authorities make significant savings to operations over the next five years by sharing services.
Excellence adventure
To implement the savings, Civica will set up a centre of excellence to provide services to the three South Worcestershire councils and other public sector organisations.
Starting initially with the existing revenues and benefits service for the three councils, the partnership will offer transactional, assessment and a range of other services to support other councils struggling to maintain services with dwindling budgets.
"These are difficult times for all in the public sector," said Paul Middlebrough, leader of Wychavon Council. "By adopting a partnership approach we have been able to bring together a wide range of skills and expertise, together with economies of scale that allow us to offer a high quality service at a very competitive rate and protect jobs."
Adrian Gregson, leader of Worcester City, added that, with the advent of Universal Credit, the South Worcestershire councils were facing the prospect of having to shed a large number of jobs in the shared revenues and benefits service.
"This partnership offers an innovative solution to protecting local jobs while continuing to give the councils oversight of the service," he said.
Simon Downing, Civica chief executive, said the deal, alongside its recently-started, seven-year partnership with Gloucester City Council to outsourced revenue and benefits services, showed his company was a capable partner for local authorities.
"We look forward to working with the South Worcestershire councils to establish a new centre of excellence with a common vision to safeguard jobs while driving savings, innovation and growth," he said. "Local authorities face significant challenges to deliver quality services and welfare reform while spending less, and the councils have worked together successfully through an innovative shared service."
Read also :