Crucial Upgrades Bid For Tripling SSD And Memory Market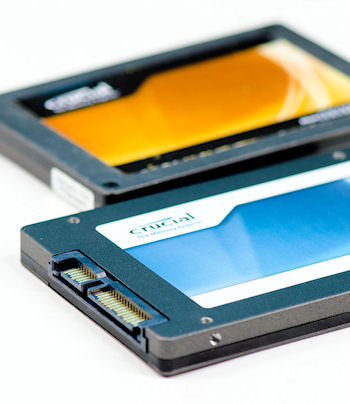 Solid state specialist optimistic following glowing report from analyst IHS
The massive popularity of tablets, helped by sales of ultrathin PCs and Ultrabooks has given a huge sales boost to solid-state drive (SSD) manufacturers and distributors, reports market analyst IHS.
The current boom has spurred SSD seller Crucial to launch a scheme to help the channel benefit from this nascent market.
 Flash flood
In its latest storage market tracker briefing with ChannelBiz, the analyst firm reported a huge SSD splash in the PC tablet sector, estimating that 1.6 million units have been shifted. This time last year sales of SSD to the same sector were recorded at 542,000.
Shipments of Flash drives for ultrathins and Ultrabooks reached 5.9 million units from January to March this year, tripling the sales of units in the equivalent three-month period in 2012.
The figures include standalone SSDs as well as the NAND Flash components, used together with hard disk drives to form cache SSDs or hybrid drives.
"The SSD market enjoyed big results in the first quarter as both the consumer and enterprise markets ramped up their use of machines that made use of the drives," said Fang Zhang, analyst for storage systems at IHS. "Most notably, SSD attach rates climbed in ultrathin and Ultrabook PCs where SSDs are the de facto storage medium and also in PC tablets where productivity options differentiate them from media tablets."
Meanwhile, in the UK, SSD distributor Crucial has launched a publicity drive in a bid to encourage more end users and resellers to upgrade computers with memory and SSD.
It claims Britons lose a "staggering" 192 hours a year through needless time wasting and that one of the chief causes is slow computer boot-ups. This not only costs an average of £4,800 per person, it claims, but also leaves the population stressed and demoralised.
"So much time in our lives is invested in waiting for things," said Jo Hemmings, a behavioural psychologist quoted by Crucial. "The loss of control makes us feel frustrated and angry."
Crucial claims that resellers can alleviate this problem by helping customers to upgrade their computers to faster machines, by selling them SSD and memory components.
"A simple memory or SSD upgrade can radically alter a slow computer," said Roddy McLean, a computer upgrade specialist from Crucial.com. "Installing a memory upgrade or SSD is really easy and takes just a few minutes with no expertise required. A slow computer really shouldn't be allowed to waste our time."
Read also :