Becrypt And Getac Develop Rugged Secure Tablet For Government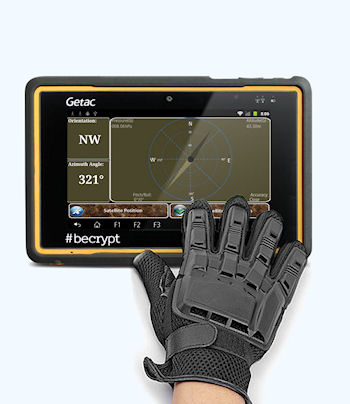 Partnership pitches to be first Android tablet choice for MoD and government security
A new secure, tough tablet running Android is being co-developed by security specialist Becrypt and ruggedised-hardware manufacturer Getac for military, defence and government markets, as well as the wider public sector where organisations are looking for hardened devices.
At the moment there are no Android tablets approved for government or military use.  The two companies will be working to provide a version of Android that has additional security that will meet Ministry of Defence (MoD) standards.
Tough and secure
The improvements will include device encryption, system hardening, peripheral control and centralised management which, the companies said, "significantly improves the ability to control devices, enforce security policies, and provide audit trails and reporting while reducing support and maintenance overheads". Peter Molyneux, president of Getac UK, said that its partner Becrypt took "an innovative approach to solving security challenges".
The initial device will be based on Android 4.1 but the partnership is also working on a similar secure tablet platform for Windows 8.
"Together, our customers in the government, military, defence and public sectors can trust us to deliver the highest levels of security, coupled with reliable, rugged technology, to protect their confidential and sensitive data and drive productivity and performance," Molyneux said.
Bernard Parsons, chief executive of Becrypt, said tablet adoption is growing in security-conscious markets. He said his firm's strategy is focusing on remote deployment and centralised management of devices to "deliver the same high performance and reliability that customers have come to expect of their laptops, with the added bonus of increased security and portability made possible by the latest mobile technology".
The first device will debut at the defence and security exhibition, DSEI, in London on 10-13 September and at the National Conference of the Police Superintendents' Association being held at Chesford Grange Hotel, Kenilworth, on 10-11 September.
Read also :