Unix Plunges As Server Revenues And Shipments Decline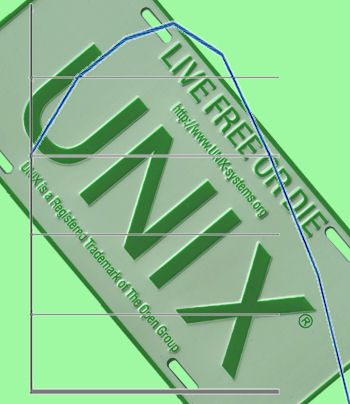 Gartner and IDC paint a bleak picture of the worldwide hardware market
Second quarter 2013 figures for the server market have shown falling revenues and shipments worldwide, according to both Gartner and IDC.
The research companies agrees that the main reasons for the continued decline was a steep decrease in RISC/Itanium Unix servers sales. Revenues for this market declined at 27.4 percent in units and 25.3 percent in vendor revenue compared to the same quarter last year as customers sought alternative platforms to lower costs and gain greater flexibility.
Server downtime
According to Gartner, despite a migration from midrange servers to x86 architectures, the x86 server revenue still decreased by 4.7 percent in EMEA even though RISC/Itanium Unix revenue tumbled by 22.6 percent. In what the company refers to as "other" servers, primarily mainframes, the market saw a much healthier aspect and it grew by 44.3 percent, resulting from platform refreshes.
At IDC, researchers found that Unix servers' revenue declined by 21.0 percent year on year to $1.8 billion (£1.2bn), representing 15.1 percent of server revenue for the quarter. The firm said this is the lowest quarterly Unix server revenue it has ever reported.
"The non-x86 server market is in the middle of a major transformation, as hardware platforms associated with Unix continue to look for a bottom in their secular decline, mainframes find new third platform workloads, and the market prepares for new RISC-based system-on-a-chip architectures to enter," said Kuba Stolarski, research manager for enterprise servers at IDC. "As the lines between x86 and non-x86 workloads continue to blur, customers will find compelling cases outside of x86 for hyperscale and scale-up solutions for their analytics, cloud, mobile, and social platforms."
According to Gartner, EMEA server shipments surpassed 550,000 units in the second quarter of 2013, a decrease of 5.9 percent from the same period last year. Server revenue totalled $3.1 billion (£2bn) in the quarter, a decline of 4.6 percent from the same quarter last year. The only regional bright spot for Gartner was the Asia/Pacific region with growth of 10 percent revenue and 21.7 percent in shipments year on year.
"Weak enterprise demand, combined with consolidation and platform migration, continued to dampen the EMEA server market," said Adrian O'Connell, research director at Gartner. "In addition to weak demand, established vendors are increasingly challenged by relatively-new vendors such as Cisco, Asia/Pacific-based suppliers such as Lenovo and Huawei, and original design manufacturers selling directly to large end-users.
"Demand for servers in EMEA remained constrained in the second quarter. All three EMEA sub-regions saw server revenue decrease in the second quarter of 2013. In Western Europe, revenue declined 1.6 percent; in Eastern Europe it fell 17.9 percent and the Middle East and Africa region decreased nine percent," he added.
Both Gartner and IDC placed IBM in the top spot as far as revenues were concerned. HP, Dell, Oracle and Cisco were placed second to fifth by both firms respectively. HP managed to see a decline in revenues of 17.5 percent in both Gartner's and IDC's calculations. HP has been the main backer of Itanium.
According to IDC, one bright spot on the horizon was the density-optimised server market. These are found in hyperscale datacentres used by cloud providers. This market experienced very strong demand in 2Q13. Revenue grew 26.6 percent year on year to $735 million (£474m) as unit shipments increased 13.8 percent to just under 200,000 servers.
Density-optimised servers now represent 6.2 percent of all server revenue and 10.0 percent of all server shipments. In this market, Dell maintained the number one spot with 60.5 percent revenue share, according to IDC's figures.
Read also :