Vidyo And Google Collaborate On Browser WebRTC Video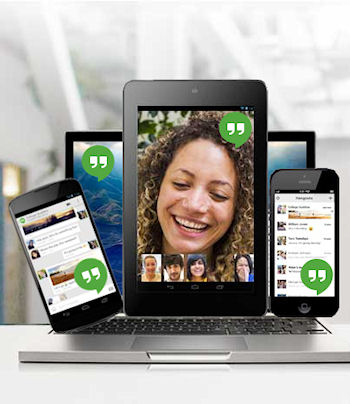 Partnership hopes to enhance Hangouts video calling quality in browsers
Video conferencing firm Vidyo has teamed up with Google in a bid to improve the quality of video in WebRTC-enabled browsers.
The agreement will see Vidyo developing a Scalable Video Coding (SVC) extension in Google's open source VP9 codec, which forms part of the WebRTC client open source project.
Browser video
Chee Chew, vice president of engineering at Google, said the two companies have has partnered to develop a high quality offering for Google Hangouts video calling and conferencing.
"By continuing our relationship, we will now combine the power of WebRTC with the benefits of Vidyo's technology to deliver the best possible experience for our users," he said.
The WebRTC protocol has been developed  using Javascript APIs and HTML5 so users can have browser-to-browser video chats without installing special plug-ins or clients. Google, Mozilla and Opera support WebRTC, while Microsoft and Apple use H.264 and H.265 to achieve broadly similar goals.
Google will use the same video conferencing technology that is used in the VidyoWorks platform. This uses SVC-based compression to optimise video at the endpoint. For example, a smartphone user on a poor 3G connection could be automatically sent a low-quality, low-bandwidth signal, while a desktop PC using fibre could be sent a high-quality stream.
The scalable version of WebRTC will be used in the Chrome browser and both Google and Vidyo will push the technology to various standards bodies. Vidyo co-founder and chief executive Ofer Shapiro said the partnership was "great news" for the WebRTC community.
"Google is known for its ability to embrace and promote technological innovations. WebRTC provides a vision of new communications possibilities for video-enabled Web applications and by leveraging Vidyo's expertise in SVC, we will jointly create a path to accessible quality video," he said.
The Hangouts video calling service has recently been upgraded to HD quality and moved from the H.264 codec to Google's VP8, which the firm said would bring a raft of improvements to the service.
Read also :