AppLayer Crowd Develops Ultra-Secure Services Cloud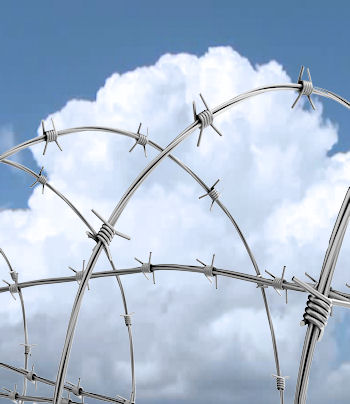 IBM, The Bunker, Trend Micro and AppLayer tackle strong cloud services for security-conscious entreprises
AppLayer, IBM, The Bunker and Trend Micro have banded together to provide  PCI- DSS, "ultra- secure" cloud services which adhere to Financial Conduct Authority (FCA) guidelines. The FCA was formerly known as the Financial Services Authority (FSA).
The security services cloud has been designed according to standards required by organisations with strict security needs, such as those in the financial services and payments industries. It centres around a secure hosted-desktop platform which monitors and highlights suspicious activity and allows organisations to manage security issues associated with BYOD practices.
Customer secured
The first company to avail itself of these services is UK insurance advisor Amity Financial Solutions and its social enterprise BigDog, aimed at helping young people into apprenticeships and work. Amity will use the cloud applications to manage its IT and telephony systems in its contact centres.
"Whether it's providing guidance on finding the right insurance policy or giving insight into how to secure a winning apprenticeship, our clients place a huge amount of trust in our consultants and services." said Nick Chadborne, CEO of Amity and BigDog. "AppLayer and its partners worked together seamlessly to provide us with the technology we need to ensure our contact centres run smoothly. This means that representatives can quickly respond to client requests and, most importantly, our customers' data and information stays safe."
The roles of the partners in developing the service brings AppLayer's expertise in developing cloud applications together with The Bunker's systems security and military-grade physical protection within a former nuclear bunker facility. Trend Micro's 25 years of experience in digital information security provides the data security to run on  the IBM infrastructure. IBM's worldwide marketing reach will also provide customers for the cloud service.
Graham Spivey, director of sales and marketing at The Bunker, commented, "The Bunker specialises in providing an ultra-secure environment to host sensitive data and we are keen to extend our secure data management solutions by offering flexible, ultra-secure cloud solutions to our security conscious customers.  We are delighted to be able to do this now through our partnership with AppLayer."
Compliance, security and flexibility are all concerns for enterprises considering cloud services, according to Andrew McLean, CEO of AppLayer.  "Partnering with The Bunker, Trend Micro and IBM made sense from the start. This strategic alliance means that we can now offer customers the best technology and security the market has to offer," he said.
Spivey added, "Amity Financial Solutions' implementation of our first joint product is a great start and we are confident this is just the beginning of a fruitful partnership."