HP Shakes Its Desktop Workstation Range To The Core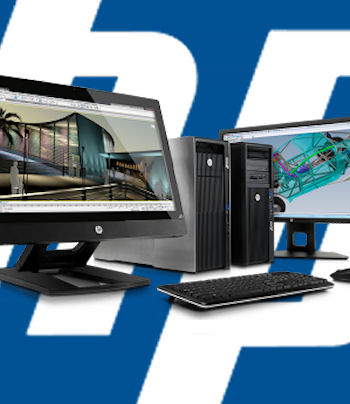 New 24-core Xeon chips, Thunderbolt 2, and faster RAM boost HP's most powerful desktops
HP has refreshed its desktop workstation range, adding support for Intel's new Ivy Bridge processors, Thunderbolt 2 interface with 20 Gb/s bandwidth for high speed transfer, and faster 1866 MHz DDR3 RAM.
The new machines are also compatible with Nvidia's Quadro K6000, which comes with up to 12 GB frame buffer – the most powerful dedicated video card Nvidia has ever produced.
Core development
To accompany the updated hardware, HP has launched two Z-series displays – Z27i and Z30i – featuring second generation in-plane switching (IPS) panels and enhanced ergonomics designed for multiscreen environments. It has also announced three new mobile workstations, including ZBook 14, which it calls the world's first workstation ultrabook.
High performance workstations are used in industries that require compute beyond the reach of ordinary PCs – finance, healthcare, film and media, design and product development. HP and Dell compete fiercely in this specialised market, with Apple's MacPro still having devoted followers.
HP's four new machines, the Z230, Z420, Z620 and Z820, all feature tool-free chassis, plenty of expandability options and HP's Whisper Quiet technology, which places thermal sensors all along the case, so half a dozen cooling fans inside the workstation only work when cooling is actually necessary.
The entry-level Z230 now comes in a smaller and more efficient form factor, while still featuring six drive bays, ten USB ports and support for up to six monitors. The rest of the Z-series desktops are now compatible with Ivy Bridge Xeon chips that double the possible number of cores to 24. The revision sees Z230 endowed with Xeon E3-1200 v3 family processors, Z420 with either E5-1600 v2 for single-socket or E5-2600 v2 for double-socket configurations, and both Z620 and Z820 with E5-2600 v2, offering up to a teraflop of compute in a single workstation.
Power packed
The Z-series is aimed at a wide range of use cases and budgets. Z420, HP's most popular workstation, can feature up to eight processing cores, up to 64GB of memory, up to 12TB of storage and either Nvidia Quadro K6000, AMD W7000 or two Nvidia K2000 graphics cards. The pricing for the updated model starts at $1,399 (£890).
Z620, the more versatile option, increases the core limit to 24, can handle up to 192 GB of RAM (the maximum allowed on Windows 7), up to 12TB of storage and either one K6000 or two K5000 cards. Its price starts at $1,689 (£1,075).
The Z820 deserves a special mention due to its remarkable over-the-top specifications. In addition to Intel's most powerful dual-socket chip, this beast can feature up to 512GB of RAM (available on Linux or Windows 8 systems), up to 15TB of storage and up to two Nvidia K6000 graphics cards. The price for HP's most powerful desktop starts at $2,439 (£1553).
Three of the top-tier workstations are now compatible with faster DDR3 RAM, with up to a 16 percent increase in memory bandwidth thanks to higher clock frequency. And all Z-series machines can be  boosted even further using Fusion io FX accelerators connected via Thunderbolt 2 interface, which is four times faster than USB 3.0.
HP has also announced two new displays – Z27i (£465) and Z30i £845), in addition to three smaller Z-series displays launched in July. They have been designed for 100 percent coverage of the sRGB and Adobe RGB colour space and feature second generation IPS panels that offer 178 degree viewing angles and up to 26 percent power savings, when compared to traditional IPS panels.
For further versatility, HP will announce a display thin client mounting kit in the nearest future.
"The HP Z subbrand has become a hallmark for professional products engineered to the highest standards—the expansion of the Z portfolio demonstrates HP's commitment to the professional market that many other vendors have abandoned," said Jim Zafarana, vice president and general manager of commercial solutions  at HP.
This article appeared on TechWeekEurope. Click here for the full story.
Read also :