Ballmer Bids Goodbye And Thank You To Microsoft Colleagues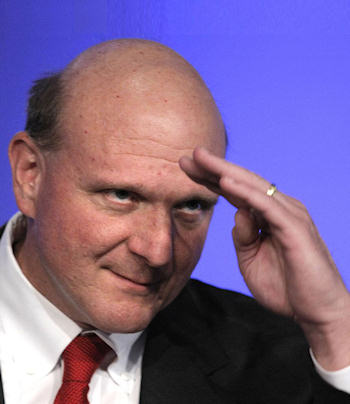 Not gone yet but time to bid his fellow employees a fond farewell
Steve Ballmer has said an emotional goodbye to his colleagues at Microsoft, at his last ever annual employee meeting in Seattle on Thursday.
According to Reuters, the soon-to-be former CEO of the company appeared on stage to "Can't Hold Us" by Macklemore and Ryan Lewis, and proceeded with a typically energetic presentation.
"We have unbelievable potential in front of us, we have an unbelievable destiny," said Ballmer, quoting the speech made during the first Microsoft employee meeting in 1983. "Only our company and a handful of others are poised to write the future," he added. "We're going to think big, we're going to bet big."
Standing ovation
During his 13 years of leadership, Ballmer rose to fame not just thanks to his tough management style and a number of risky investments, but also his unusual manner of speaking in public. The conclusion of his speech was met with a standing ovation.
Last month, in a surprise announcement Microsoft revealed that its current CEO will retire before September, 2014. Ballmer has led the company since Bill Gates left the executive suite in 2000, but faced criticism following the failures of Windows 8 and Microsoft's mobile strategy. The company's share price grew seven percent shortly after the news went public.
At his last companywide meeting, Ballmer told the audience about the difficult conversation he had to have with his parents when he decided to drop out of Stanford to join Microsoft in 1980 – a time when barely anyone knew about personal computers.
He also said that his plan to transform Microsoft from a software giant into a "devices and services" company would ultimately make it more powerful. Last month, senior managers at Microsoft emailed staff to confirm they remain committed to Ballmer's vision and his planned reorganisation.
As for the competition, the CEO was his usual brusque self: he called Apple "fashionable", Amazon "cheap", said Google was about "knowing more", but only Microsoft was about "doing more".
"We've been a great company for years. We will be a great company for many more years," concluded Ballmer, before leaving the stage to the sounds of (I've Had) The Time of My Life from the 80s hit movie Dirty Dancing.
The CEO's speech was seen live by about 13,000 employees from Microsoft headquarters in Redmond, and another 25,000 who were watching online.
This article appeared on TechWeekEurope. Click here for the full story.
Read also :