Unitrends Launches UniRewards Incentive-Based Channel Programme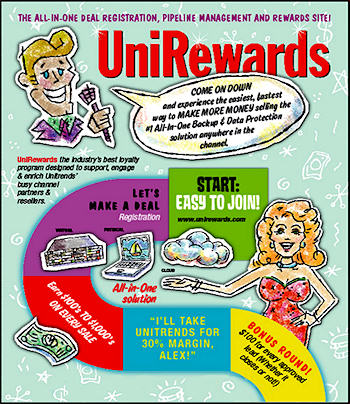 A fairer deal and greater profits for partners are promised by the backup and recovery specialist
Backup and recovery vendor Unitrends has launched a loyalty programme, UniRewards, to incentivise its channel of 60 partners in EMEA.
The company said it is eschewing the arbitrary targets of other schemes and giving instant recognition for any engagement with Unitrends by key decision-makers at channel resellers. According to the vendor, account managers and technical teams will be crucial for the development of new business for Unitrends in EMEA.
Incentive marketing
The programme offers the chance for up to 35 percent discounts on registered deals and total margin protection for registered deals for over 180 days. Unitrends has pledged it will pay the registered portion of the margin to the active reseller that initiated the lead, even if it transfers the deal to a different partner.
Other attractions include a scheme for registering qualified leads that awards resellers for every new prospect, whether it converts or not, and additional cash points if the deal closes. Members can also earn points for activities that support Unitrends' products and services, such as inviting other sales reps to join the programme.
Additionally, resellers with trained technical teams that can provide first-line support can claim an additional five percent discount, giving them up to 40 percent on registered deals.
With deal approval promised within 48 hours of registration and service level agreement response time of less than 24 business hours, Unitrends now wants to impress its partners through its support rather than just technology, said Carl Dipane, technical director at partner CD-Datahouse in Windsor.
"When we first started working with the company it was their technology that grabbed our attention," he said, ", but we soon found that their people were exceptional… For us, they are definitely the friendliest and easiest vendor we deal with."
Kevin Moreau, EMEA managing director at Unitrends, commented, "We want our partners to know that we are committed to their success, just as they are a crucial part of ours. UniRewards was designed with simplicity and transparency in mind – to give back to the companies that enable us to be successful on a daily basis."
Read also :