Entatech Starts Recruitment Push With Boot Camp Prize Giveaways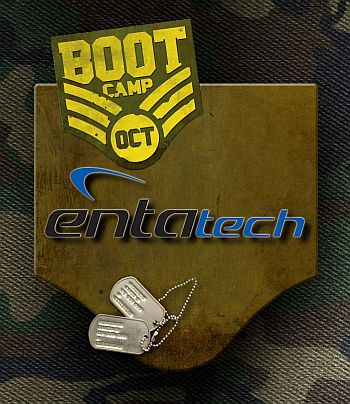 Distie seeks to attract trade customers with competition, prize draw, and big discounts
Entatech is looking to encourage resellers to sign up as trade customers by giving away prizes such as laptops and big televisions during its annual October promotion.
The distie has teamed up with 23 vendors, such as Microsoft, Fujitsu, Intel and Kaspersky, to launch its annual October promotion. It has given this year's promo campaign a US military boot camp theme with product offers and promotions from vendor partners.
Minefield of opportunity
In addition to special deals, each customer that purchases from one of the participating vendors will be entered into a daily prize "minefield" to win an eight-inch MobiNote Android tablet. There will also be a Grand Prize draw at the end of the month where all qualifying customers can win one of over 70 prizes.
Prizes include Fujitsu laptops, £500 account credits, a wide screen TV, a Virgin Experience Day voucher, Iiyama monitors, and £50 Love2Shop and restaurant vouchers.
Resellers that sign up as an Entatech customer will gain access to discount deals and margin opportunities during the promotion, which runs until the end of the month. Partners will also get deals from Entatech's UK exclusive vendors, such as Zotac, Sandberg and XFX.
Each of the supporting vendors will be appointed a dedicated "Focus Day" specifically for their brands, with an email sent to Entatech's customer base and postigs on the distie's Facebook and Twitter accounts.
"The offers in our annual campaigns prove to be really popular with our resellers and I am more than confident that our October Boot Camp promotion will follow suit," said Kate Fuller, Entatech marketing manager. "Not only do we have a great combination of Entatech vendors on board, but we also have a fantastic range of prizes on offer for resellers, giving them an extra bonus in addition to the exclusive pricing they will receive."
Other participating vendors include: ADATA, BullGuard, C2G, ASRock, Gigabyte, Kingston, Transcend, Netgear, D-Link, iiyama, MobiNote, BeeWi, Fractal Design, MadCatz, Verbatim, and Nightwatcher.
More details can be found at Entatech's Boot Camp page.
Read also :